Changelog ✍️
Here you can find a log of changes made to the Flatlogic Platform. Last update: ** January 11, 2023**
January 11th, 2023 – CSV Export Feature!
We are happy to announce that now you can export data from all your's entities in CSV format! The new feature allows users to easily export data from the admin panel tables and view it in any spreadsheet application.

January 3rd, 2023 – Laravel Backend Supports Microsoft SQL Server 2019!
We add Laravel backend support for Microsoft SQL Server 2019.
December 30th, 2022 – Flatlogic Platform Now Supports Microsoft SQL Server 2019!
We're happy to announce that users can now select Microsoft SQL Server 2019 when creating a project on the Flatlogic Platform. Now this new database option is only available with NodeJS+Sequelize backend stack.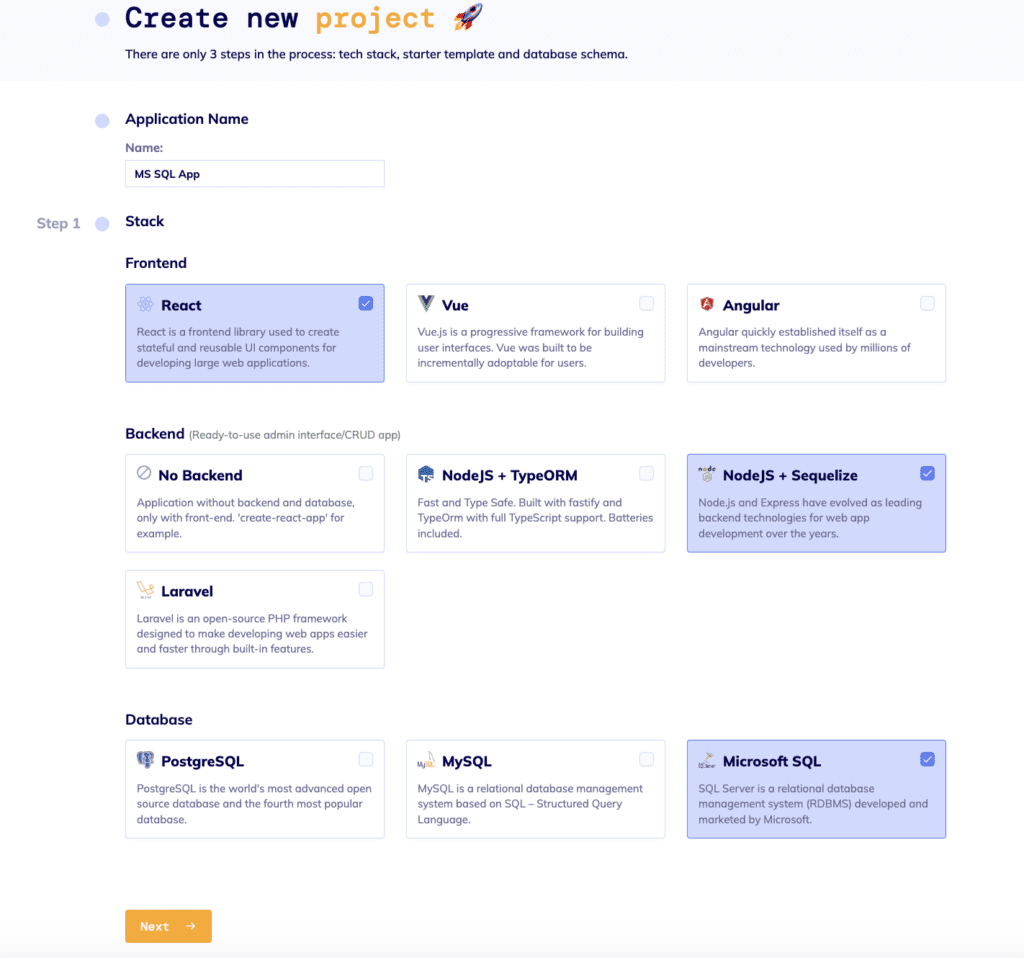 December 20th, 2022 – ChatGPT + Flatlogic: Generate Fully-Functioning Web Apps Based on Description
The process is very simple: go to our main page, click "Generate web app", register for an account, and on the 3rd step, where you define a database schema, add a description by clicking on the "Generate with AI" button. You need to type the application's description in the text area and hit "Send". The application's schema will be ready in around 15 seconds. You may either hit deploy immediately or review the structure to make manual adjustments.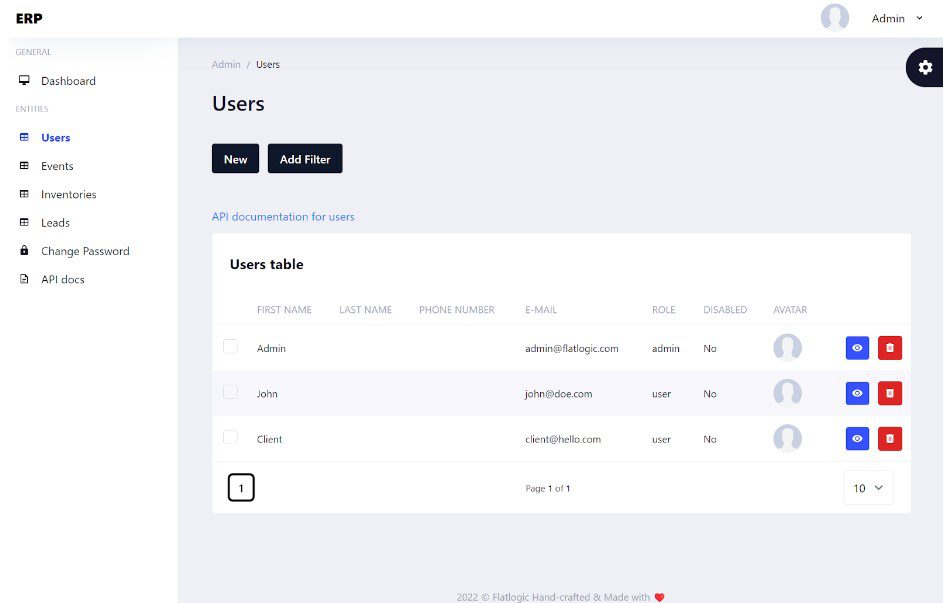 For example here is the app (built with Vue / Node.JS / Postgresql / Tailwind) https://erp-12205-lnm5nd2pia-uc.a.run.app/#/ that was generated based on the following description:
"ERP system with leads, inventory management, and events tracking"
November 28th, 2022 - Template Widgets Release
Widgets can be used for any information the user needs. We show a simple version of the number of created entities and the user can write any custom logic to display the information he or she needs.
November 17th, 2022 - Updated React Version
Update React version to 18

fix starter/login page UI
September 13th, 2022 - New Releases - Reset Project functionality
Flatlogic Platform now supports Reset Project functionality.
There are 2 use cases for the Reset button:
to remove old migrations that are no longer needed and combine all migrations into one file (faster, better, prettier);

to reset the database by deleting it completely and creating it again.
September 7th, 2022 - New Releases - Vue Tailwind, WYSIWYG
Flatlogic Platform now supports the new stack – Vue Tailwind.
Clean, rapid, and minimised stack made with VueJS 3.0 and Tailwind CSS 3. We've added new colors, typography and some minor UI details.
Incredibly fast template. Thanks to the Vite builder, the project will be built in seconds. Comfortable state handling thanks to the lightweight and intuitive Pinia library.
Schema Editor of the Flatlogic Platform now supports the ability to add WYSIWYG to your project!
When using WYSIWYG the data representation is displayed in visual form, as in Microsoft Word, and can be edited.
New articles to the documentation page:
August 22nd, 2022 - Typeorm Backend & Schema Editor Updates
Typeorm Backend: updated file uploader
Schema Editor: added unique checkbox
May 30, 2022 - Import SQL
Now it's possible to import your existing database. Use the Import SQL button and select your .sql file. Then your database will open in the Schema Editor, where you can further edit your data (add/edit/delete entities).
May 23rd, 2022 - Bug fixes & Release new versions of stacks
Replaced buttons "New" & "Filter" at React templates. Fixed rows issues in all CRUD applications: editing, deleting
Added to selector rows per page: options 50 and 100. Displaying all records without scroll
Solved issue with the editing of entities on the backend side

Updated Vue, React, and Angular templates with the latest platform changes

Fixed bugs for Vue, React, and Angular stacks

Fixed bugs for Node.js Sequelize, Node.js TypeORM

Now administrators can change the password of any user
May 10th, 2022 - MUI5 & Updated Vue&React templates
Added new section to the documentation page: Working with app

Updated VUE material templates with the latest platform changes

Cleanup components, pages
Remove unused static assets
Set default values for numbers and enums to prevent errors
Reduce bundle size
Fix framework links, 404 page for the router

Updated React material templates with the latest platform changes

Fixed sidebar layout, user menu positioning
Adapted documentation layout for the dark mode.
Fixed async loading data for the data grid with process bar.
Added showing the label, when data grid filtering result has no values.
Data grid: fixed the calculation for the entity total count with relations.

Updated from MUI4 to MUI5, fixed Dark Theme

Finished migration from the MUI4 to MIU5.
April 25th, 2022 - Improvement of the Schema Editor & Application Guide Tour
Improvement of the Schema Editor stage.

UI\UX updates
warnings added and other improvements
Added new sections to the documentation page

Added application guide tour
April 18th, 2022 - Versioning notifications & Cloning project's stack&schema
Added notification for users about the releases of new versions

If the current version of the stack is updated, you will be notified by mail or in the settings near the stack version
Added yearly subscriptions

Now it is possible to purchase a year's subscription
Added new Tutorials to the documentation page

Allowed to create projects of the same stack

The Settings tab now has a Clone button, with which you can clone the technology stack&schema of your current/past project into a completely new one with the same technology stack&schema
April 11th, 2022 - Backend versioning & Updated Material UI for React Template
Added versioning automation for backend

Added the option for the user to update to the latest template version
Updated tables, pagination, filter & sorting on Material UI for React template
Added instructions on How to connect Google Auth

Updated Readme.md for new backend Node(TypeORM)

Added instructions how to run locally new backend

Added button "download code" for PRO plans
April 4th, 2022 - Frontend versioning & New pricing model
Added versioning automation for frontend

Added the option for the user to update to the latest template version
Changed pricing model and moved to Stripe

Moved to the more secure and advanced pricing model

Created disconnect GitHub functionality / connect other Github repository
Changed the place for the dropdown schema menu (Step 3 of Project Creating)
March 13th, 2022 - NodeJS + TypeORM
new backend released: NodeJS + TypeORM
added fastify framework for server routing
added typescript support
added validation for all requests
automatic generation of swagger documentation
February 25th, 2022 - New no-backend stacks
added no-backend stacks Next.js & Nuxt.js
added in each entity link to the corresponding API route
added more notifications for clients: "confirmation of the subscription price & confirmation of the trial period"
we also deprecated some template options that used older versions of frameworks (bootstrap 4, etc) to improve maintainability and prevent compatibility issues in the future. This will not affect already created projects
February 10th, 2022 - Deployments & logs
Now you can debug deployment problems directly by analyzing your app logs.
Added deployments to the platform
Added log page with build info
Fixed global bug with Laravel
Added "Deploy from GIT" button for stack Front+Back
Updated "README.md" file for Front-End-Only Projects
Added info/documentation tooltips to schema editor and for all steps within the app creation
February 1st, 2022 - No-backend apps
Now you can create pure front-end only apps with the Flatlogic Platform. This assumes you host the back-end somewhere else or do not need it at all.
Added Create React App starter template
Added Vue CLI Vue 3 starter template
Added Angular 11 starter template
Fixed column relations in the case the referenced table was renamed
Added customization instructions for generated apps
Added sending notifications when money is debited from a client for the subscription
Added link to Swagger API on the Project page (/project/#number)
January 21st, 2022 - Flatlogic platform
Initial platform release with general features:
Code generation/templates
Hosting
GitHub integration
Code merging
CRUD app generation
Added new FAQ for Platform Pricing Page.
×