Introduction
If you need to create a user interface of the backend of a web app you will require an admin template. What is an admin template? Admin template is a set of web pages, usually built with Javascript, HTML, or CSS. The templates make the part of website administration more pleasing and easy due to great design and simplicity. Bootstrap Admin Dashboard Templates can help you create the interface that will be suitable for your needs and will be able to show you all the data, statistics, and trends crucial to your business.
The most popular designs of admin dashboard are made with the Bootstrap 4 framework.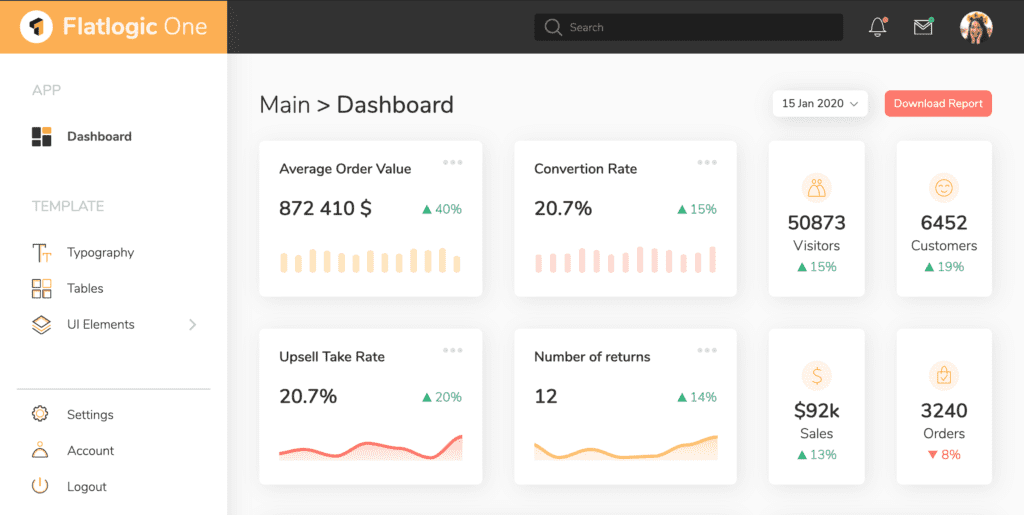 This template is a brand new one among the templates built with Bootstrap technology. It will be a good choice if you wish to build apps that include data tables and analytics. The design of the template goes in three different colors – grey, white and orange, so you can choose the most suitable one for your product. Bootstrap All Bootstrap elements can be easily customized, which makes this template fully responsive. Flatlogic One Bootstrap has elegantly designed charts, deep background, and, what is more, this dashboard is developer-oriented. The template also has full documentation and full support to solve all the problems quickly and attentively.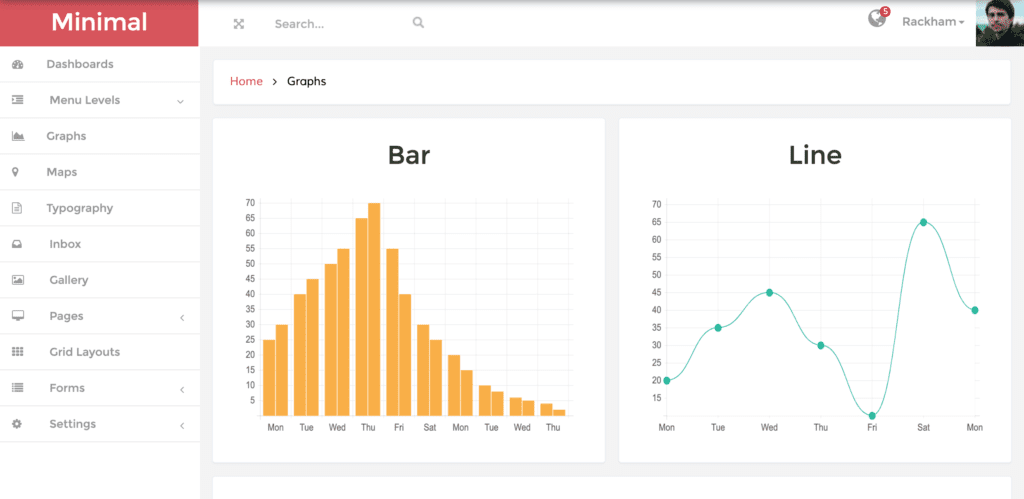 The next template has a nice design and clean look with the help of Bootstrap components. This template is built with Bootstrap 3+ Framework and includes a various number of UI components. Minimal Admin Panel is fully responsive and will be suitable for every kind of web applications due to the use of different components of user interface and widgets.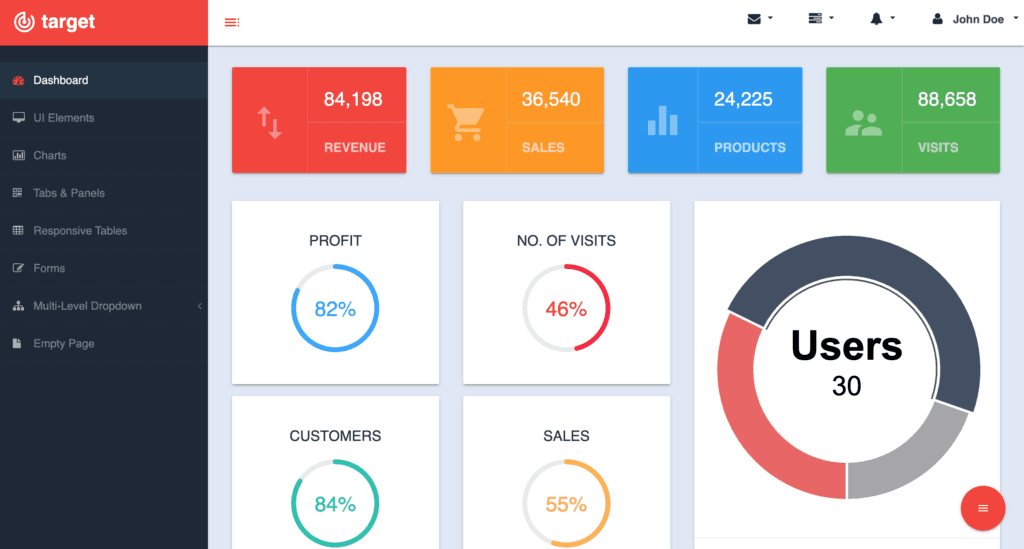 The next template on our list is fully free and can be optimized for every device. One of its advantages is that it is powered by JavaScript and jQuery Script. This template is amazingly designed, fully responsive, and customized, and has a various number of all UI components that you will need for your product. It can be the best choice if you are looking for a Material designed template.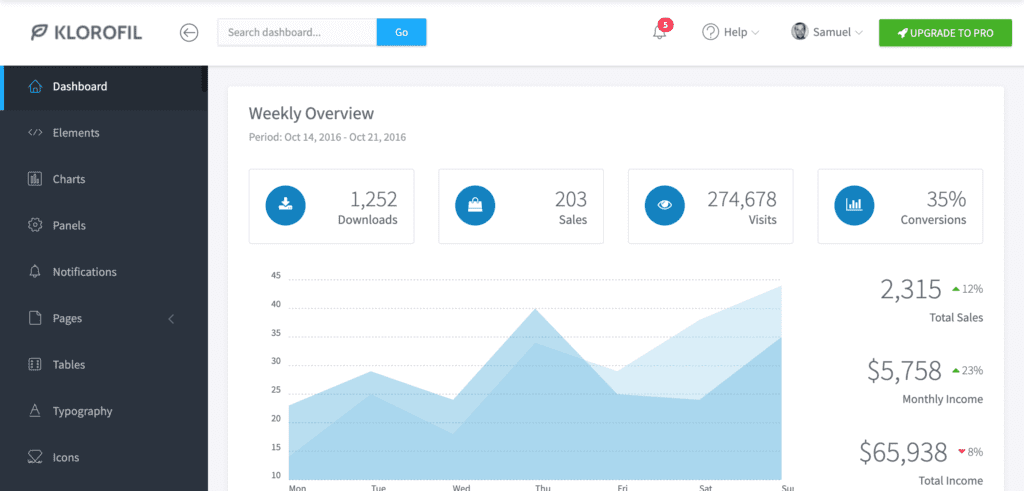 Klorofil looks like a perfect choice if you are searching for a free template with a beautiful and modern design. Its 50 components include elegant charts, different tables, timelines, notifications, a list of tasks, and everything you need for your product. It also has pages that are ready to use – particularly profile page, log in, and lock screen, so it will be easy for new users to start using the template.
This fully responsive template is famous for its elegant design, which is useful for newcomers due to its simplicity. Your project will look awesome with this fully customized backend panel and you can easily adapt it for your product needs and create your version of the panel. The advantage of the template is in the availability of two versions – developmental and production.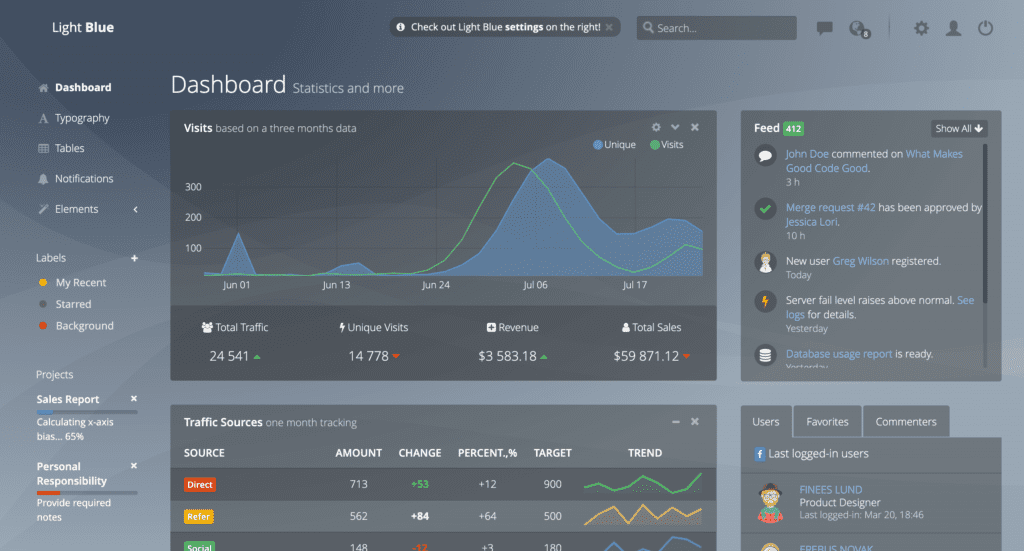 One of the best template options you can get is Light Blue Dashboard Lite, which has a great design and deep background. Bootstrap HTML5 technology makes it fully responsive and its made with Javascript, so there are no frameworks. If you are looking for a template for SAAS applications or some apps for project management your search may end here.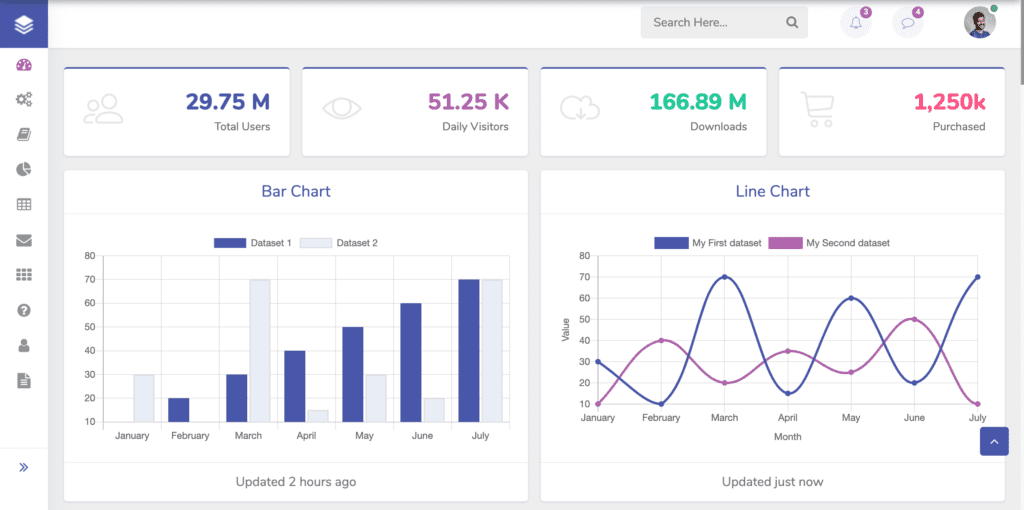 This Bootstrap admin dashboard template is a great option for any app or website. It includes anything you need to monitor the statistics of active users or daily visitors. The essential advantage of this template is its design. Made white canvas makes the information readable and easy to analysis. All the main information is on the top and the left. There is a sidebar you can hide if you need to.
The advantage of this template is its simplicity and minimalistic design, which shows everything you may need. Built with Bootstrap, it has various UI elements, such as tabs, buttons, icons, and others. The dashboard includes charts and all the crucial information to analyze your webpage. It also includes 7 ready-to-use pages to help you start working on your product immediately.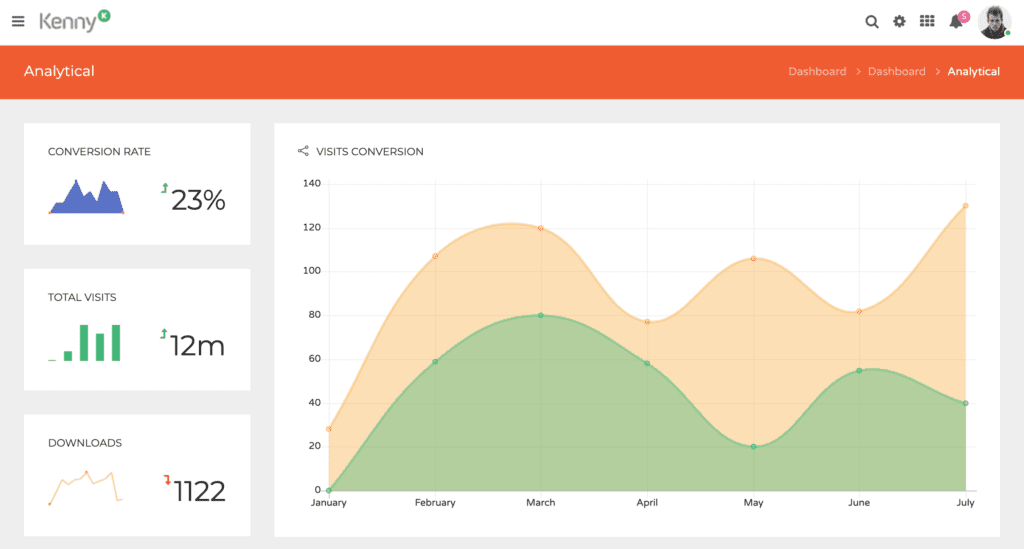 This template is fully responsive and will benefit web applications of any kind. It has a modular design that lets you easily customize the template and adapt it to your needs. Kenny Dashboard includes more than 90 pages and four types of various dashboards for you to choose the best. The number of UI elements and widgets help users to work on a product without any difficulties.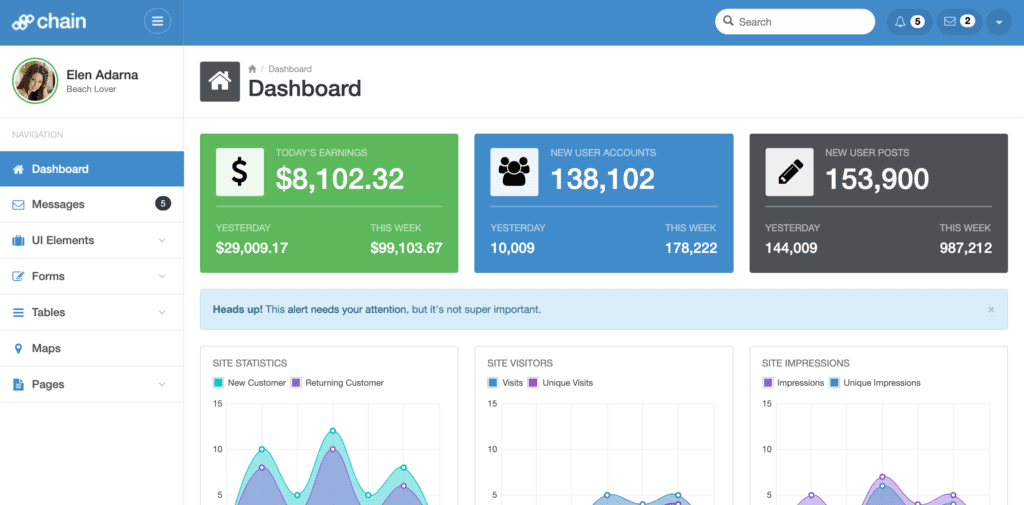 The Chain Template has a modern design, easy to adapt for smartphones and tablets. It is fully responsive as all the previous ones. However, it has more than 500 UI components, three kinds of charts, a template for a mailbox, and it is also ready for Retina. All of this makes this template a good option in the line of Bootstrap-made admin templates.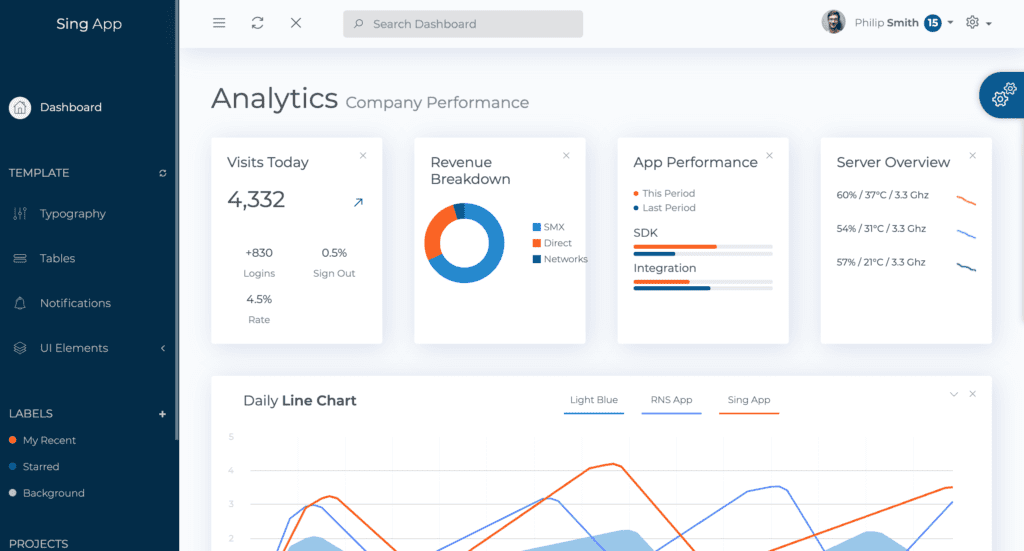 If you are searching for a free and stylish template, this will likely be the one and only. This fully responsive HTML5 template includes all the UI components you will need and is also made with no frameworks (pure JavaScript). Furthermore, it has various charts for your web app analysis. Notifications, icons, and other features – all of those help you make the most of your product. You can also look through all examples of a bootstrap admin template by Flatlogic.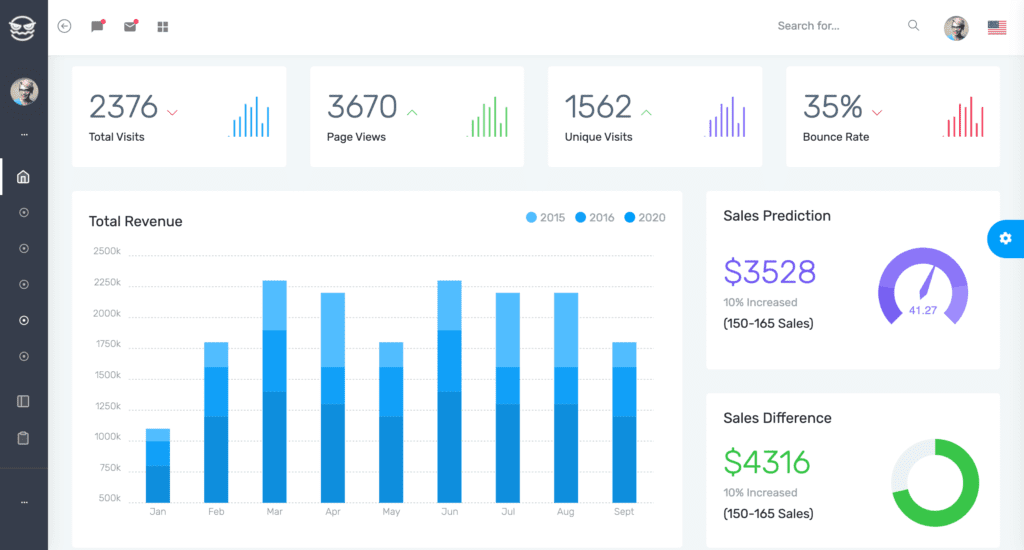 One of the main features of this template is the availability of free and pro versions. The free version has 10 UI elements, 7 page templates, 10 integrated plugins, and lifetime updates. If you want to use this template for commercial purposes, you should buy the pro version, which will provide you with more than 500 UI elements, 700 ready-to-use page templates, and 4 various dashboards.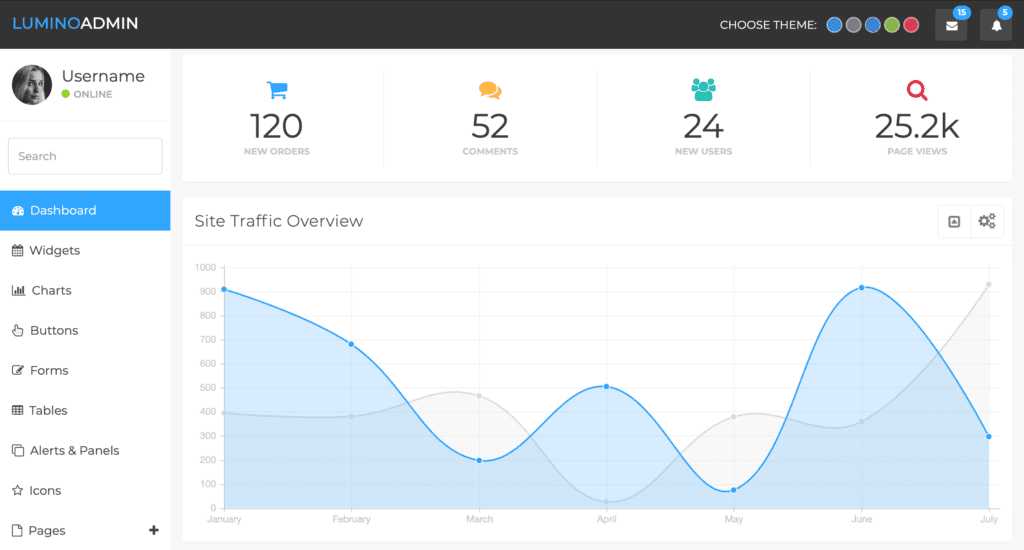 Built with Bootstrap HTML5, this template is the best for your backend admin panel due to the number of different widgets, charts, tables, and UI components. You can change its color with SASS, and the template also has a menu and some built-in functions for users. Furthermore, you can upgrade it to a pro version and get a whole new range of possibilities.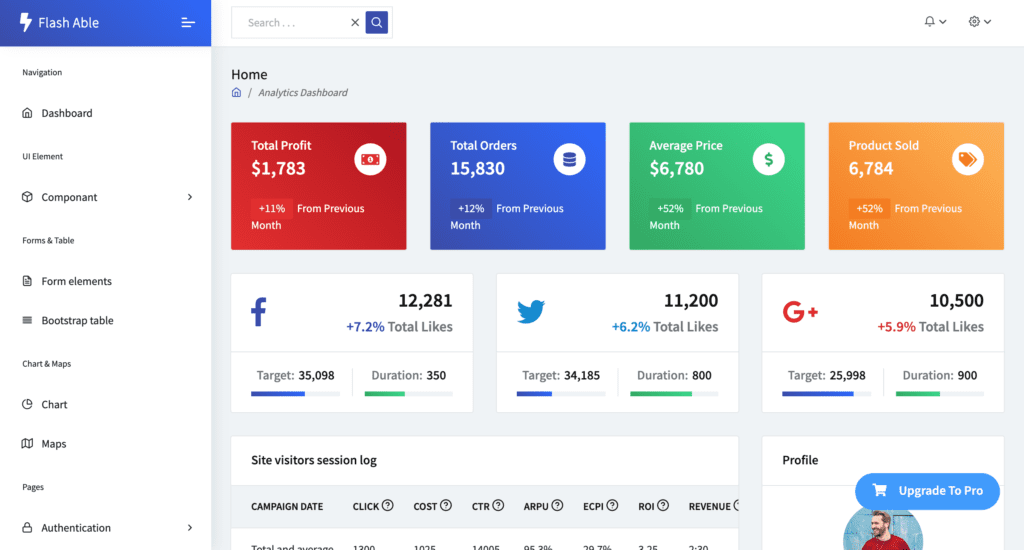 The key advantage of this template is the concentration on performance, which is why it's one of the most comprehensive templates. It is fast and fully responsive and suits every retina device. Flash Able Bootstrap 4 is beautifully coded and has a fine structure, which makes it easy to use. The developers include in it more than 16 pages, 150 widgets, and more than 14 various layouts for better adaptation to your needs.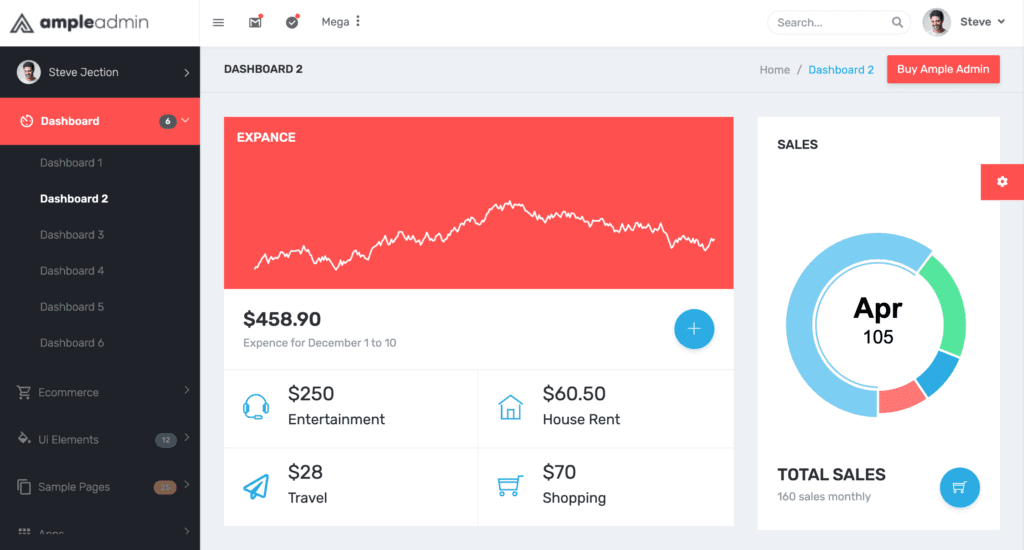 The free version of this great template has anything you wish for starting your work: 7-page templates, 10 UI elements, and 10 integrated plugins. If you wish to explore more of its functions, you can buy a pro version, which will provide you with more than 300 UI elements, 6 application designs, 6 dashboard variations, 7 demo variations, and 160-page templates.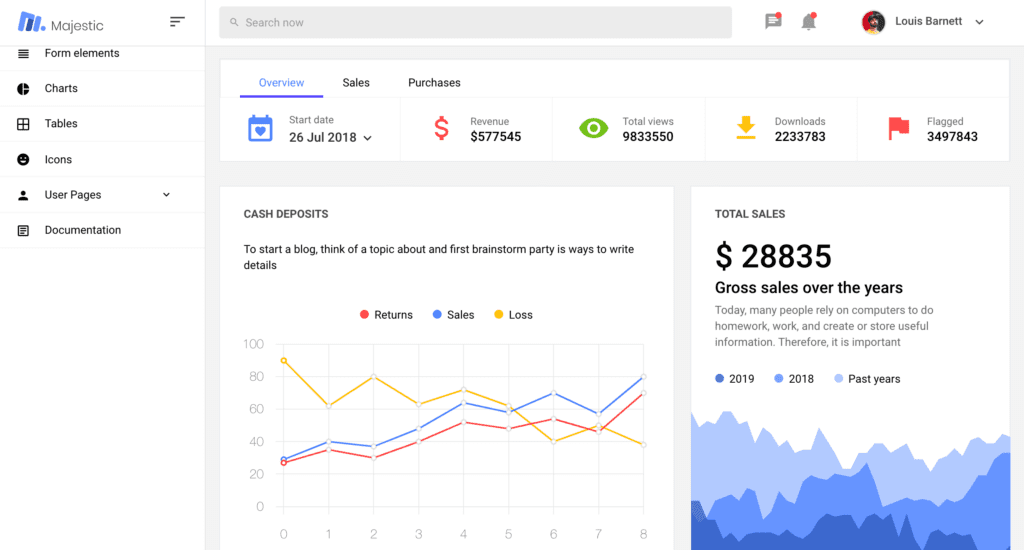 This brilliantly coded template is simple, friendly and can be used for any kind of websites on both mobile and desktop devices. To make your life easier it is fully responsive and has no difficulties with customization. Even a new user can start to build a website using this template due to its clear and clean code.
The latest version of Bootstrap makes this template powerful and smooth. It includes various essential UI-components, useful tools, and, what is more, has a splendid design, which will make your product look perfect. It is easy to customize every feature and the template also has all documentation and is fully responsive. All of this makes it one of the interesting choices on the Bootstrap template market.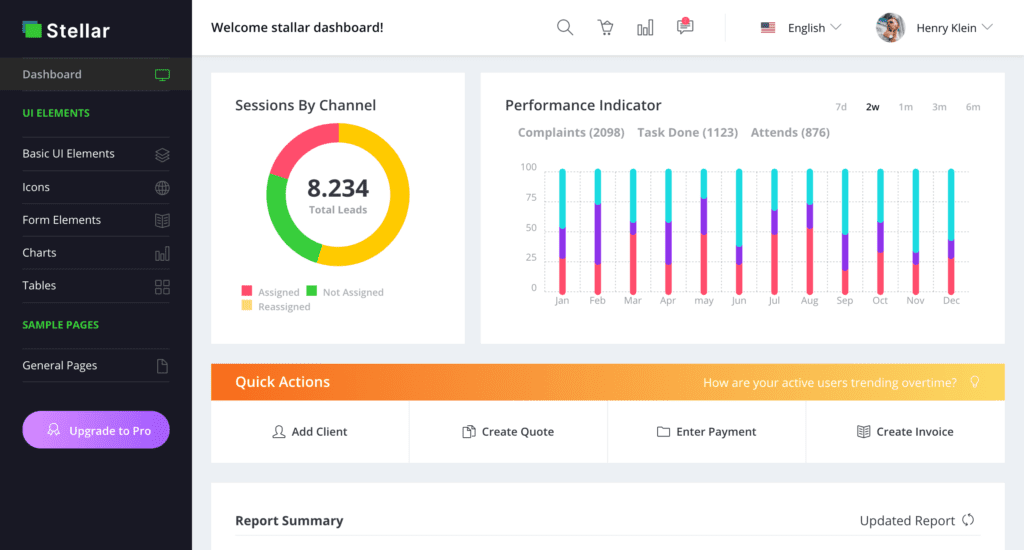 The first you'll see, if you look at this template – is its elegant design and clear code. It will reflect all your desires with the help of UI components and full customization. Stellar Admin will go brilliantly with both complex and simple backend applications. It also goes with updates, so you will not need to worry about it, and is ready to give you a great experience both on desktop and mobile devices.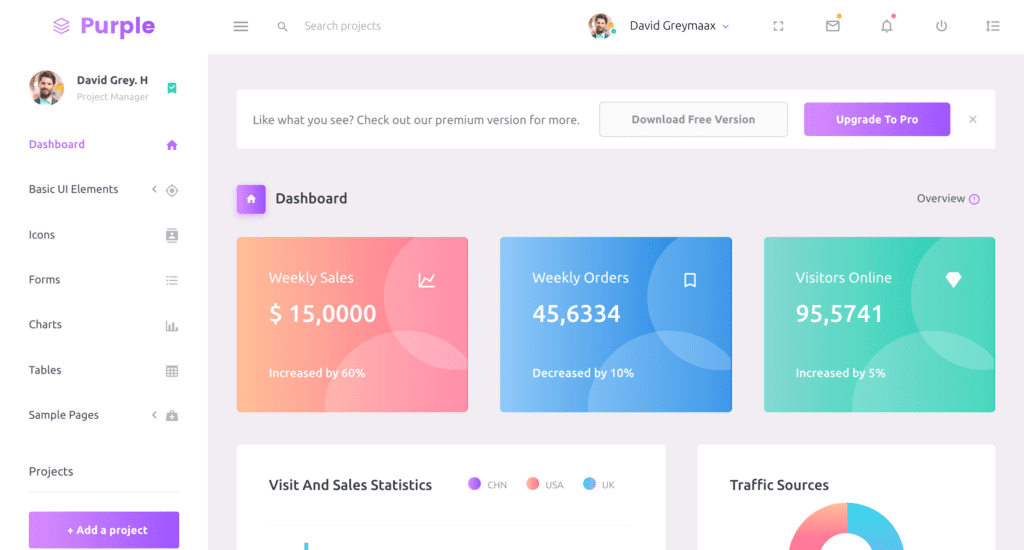 This template will have all of your attention with its glorious and modern design, which uses gradient colors. Purple Admin Template is great for both complex and simple data due to its interesting techniques of visualization. Furthermore, the template provides you with GULP automation, ready-to-use components, advanced forms, and beautiful charts. All of this makes this template one of the best choices on the market.
You might also like these articles: