Flatlogic One Bootstrap is the name of our new admin template. A nice bonus is that the version is free. However, it doesn't mean that we haven't worked hard on it. This template has incorporated our best accomplishments in software engineering and design. We can't wait to share it with you, our followers.

Let's start with the programming part. To create this dashboard template, we used a popular front-end toolkit – Bootstrap. It contains customizable components, operating them you will easily construct your web-application. By the way, which of items do you use more often: a laptop, a tablet, a phone? Maybe, you take advantage of all of them changing in accordance with time and situation, don't you? We know you do. That's why we made this template fully responsible.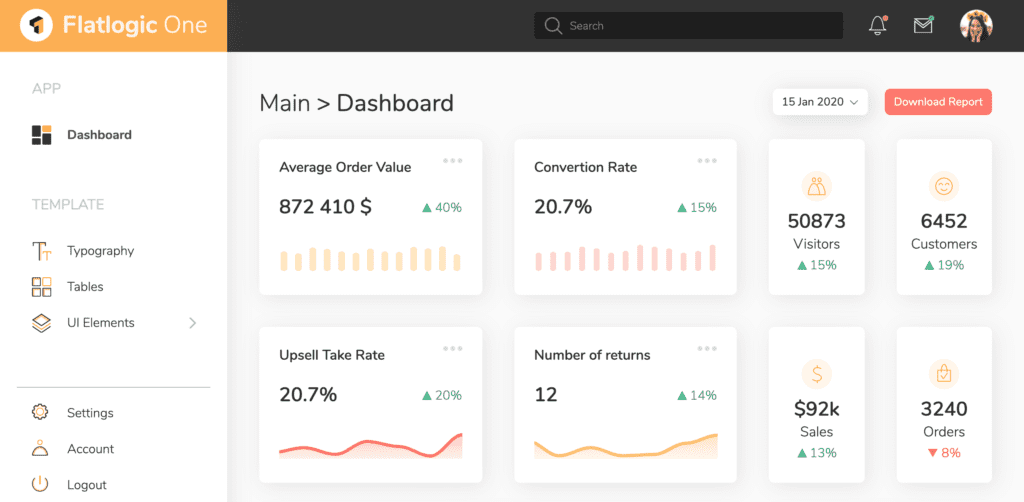 We always bear in mind that our product is a template – the thing that should be very convenient in further operation, especially for software engineers. So developer-oriented approach is in the list of must-have for us.
Apart from the technical aspect, we also pay attention to the content – what's inside. Have you ever thought about the common thing that we handle and impart to each other every day and everywhere? You have certainly guessed – information. Yes, it is, the big volumes of data that we constantly operate. And when it comes to web-applications, we must have a clear idea of how to submit these data on the screen, what format is suitable. Obviously, the plain text is not a good idea, especially when you deal with user details, the number of orders, the size of revenue, etc. The tables are the rescue. Using tables enables us to structure the information, and make it visually friendly.
Flatlogic One Bootstrap template contains various table styles to choose from. However, tables are not a universal method to show figures. Sometimes, using charts is much better. For example, there is a necessity to show exchange rates during a certain period of time. Our dashboard template provides beautiful charts of different formats. In addition, you will enjoy the design of the template. White, orange, grey – these are the colors that we defined as the main color theme.
So if you are looking for something convenient, functional, and beautiful to build your project, don't hesitate to try out Flatlogic One Bootstrap.
You might also like these articles: