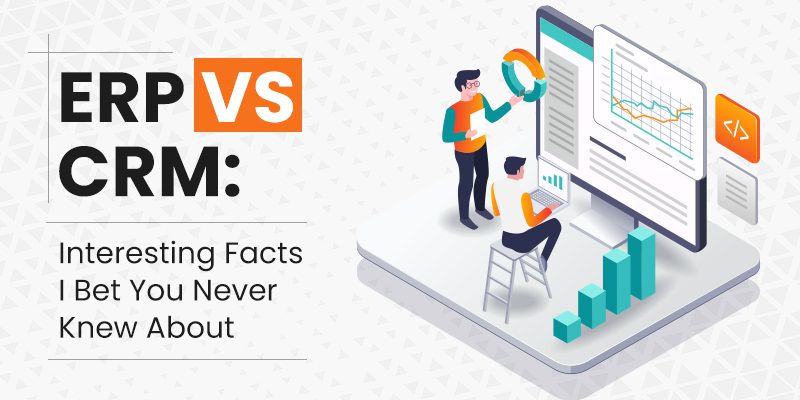 Due to modern technology, businesses now enjoy a unique advantage. Businesses may stay ahead of the competition by streamlining operations and gaining access to data instantly.
ERP and CRM are the most commonly recommended solutions for any business looking to automate its processes.
To ensure that their operations function well, most firms employ two different software tools: ERP and CRM.
ERP and custom CRM software are widely used, capable of operating on various platforms, and occasionally utilized in tandem for a single firm. Depending on the need, a small number of businesses can combine these two software platforms on a single platform. Because of this, many of them only have a hazy understanding of CRM and ERP and sometimes need clarification on the two.
So, what do ERP and CRM mean? What distinguishes them in any way? What justifies its use in business? Which one is best for you
All of them have been adequately and accurately addressed in this blog!
So, let's get started!
CRM: Quick Overview!
Customer relationship management is directed to CRM. A custom CRM software is a hub for coordinating activities between the sales, marketing, customer support, and commerce departments to provide an omnichannel and personalized customer experience.
With custom CRM software, one can easily create reports using customer data and obtain visual representations of all data that meet specific criteria using filters. CRM also offers analytics, which aids in decision-making and the planning of subsequent actions by a firm.
CRMs aid in speeding up otherwise time-consuming processes like data synchronization and exchange. Contact information and other customer-related information do not require manual updating. Data and contact records are instantly updated and synchronized in the system.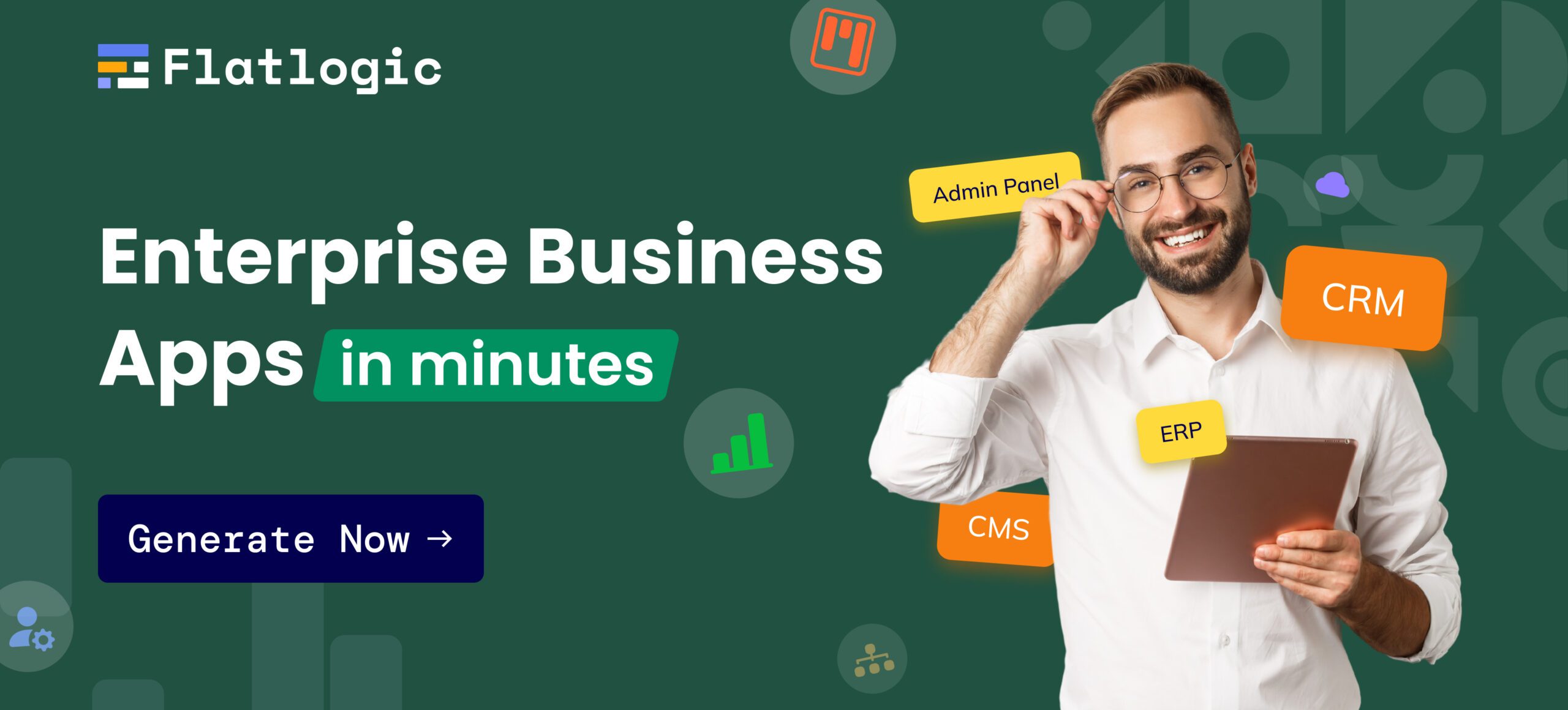 Whoever contacts a connection can communicate with them. Any encounter, whether with a marketing team member, a salesperson, or a customer care professional, is recorded immediately.
CRM can also be coupled with other solutions and applications like billing, accounting, and resource management, which can assist organizations in maintaining smooth data flow and give them 360-degree customer information.
Now, let's check some,
CRM software: Key market stats!
In 2022, the market for customer relationship management was estimated to be worth USD 58.82 billion. From 2023 to 2030, it is anticipated that the market will develop at a strong CAGR of 13.9%.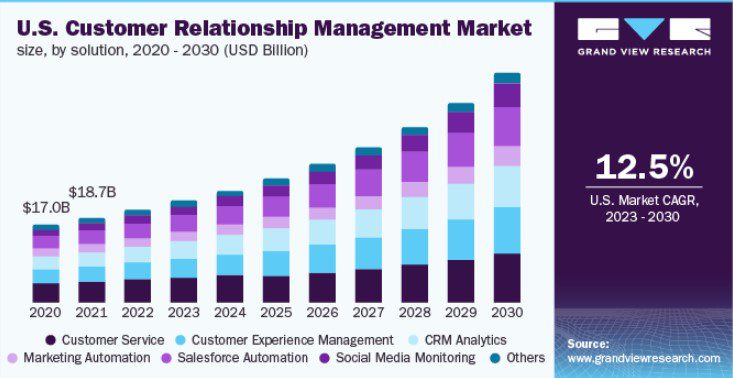 Almost 80% of firms employ custom CRM software globally for process automation and sales reporting.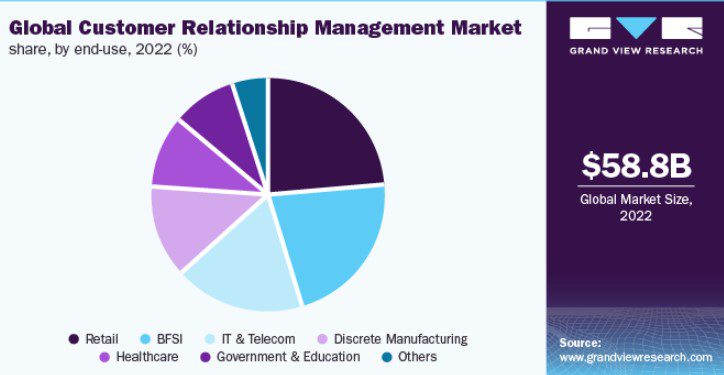 Who can profit from a CRM?
Small companies wish to expand and find a competitive advantage in the market, along with mid-sized to large companies who want to scale more effectively.
Regardless of your organization's size, most CRMs are flexible and can provide adaptable solutions to match your business demands.
Moving ahead, let's discuss this,
Why use CRM software?
A business can benefit from custom CRM software implementation in several ways, such as:
#1. Data security
Multiple security layers help protect data. The custom CRM can assist a company in protecting its data by utilizing a multi-factor authentication solution to prevent illegal system access. Internally, an organization can limit access to the data to specific personas through permissions settings.
#2. Easy reporting
As data is one of the most critical factors in businesses, reporting is crucial in gaining valuable insights from the mass of data. Custom CRM software aids a business in gathering, maintaining, and organizing data to produce various reports. A business can create personalized dashboards using customized dashboards to track multiple types of information for different personas.
#3. Automation
A business can reduce the time needed for numerous tasks by using automation. Workflows and triggers can be helpful in automating the scheduling of impending tasks and sequences of actions. By using pre-made templates, emailing consumers may be done more quickly.
#4. Improved Collaboration
CRM can serve as an organization's sole source of customer information. The substantial changes to the records will be updated for everyone with the shared data to all employees working on a CRM platform. Everyone may work on the real-time updated information.
Apart from above mentioned, some other benefits are:
Helps in the monitoring of customer contact information as well as personnel activities and lead quantity in real-time.
The ability to monitor the sales funnel and produce custom reports using pertinent information. For instance, it is feasible to produce distinct reports for each activity that the business is involved in.
Enhancing employee communication. It is possible to establish tasks, designate accountable parties, and keep tabs on the task execution.
Upload data to other services for additional analysis, or gather everything in a single management hub by integrating services from different third parties.
Recurring tasks can be automated, reducing the risks associated with human error and boosting the dependability and productivity of the business.
The custom CRM software records every communication with a customer through any channel, including phone, email, and others. Additionally, certain CRMs support mobile data capabilities. Social media's inclusion has also altered the situation. Businesses have to react in ways they've never had to Tweets, Facebook postings, LinkedIn discussions, and more.
Moving ahead, let's discuss this,
ERP: Quick Overview!
Enterprise resource planning, or ERP, is a software application that aids in managing every aspect of your business, including finance, production, the supply chain, services, and other operations. This software is a central hub for streamlining information flow and all organizational functions.
In place of spreadsheets and isolated data storage, an ERP system is typically constructed on top of a shared database for all financial and operational data. The system connects various data sources and guarantees that every department, whether it be logistics, technology, or HR, operates off the same data, can access the information they need to perform their duties, uses standard terminology, and shares the same operations and maintenance standards and tools for collaboration.
Who can profit from an ERP?
Any business will profit from an ERP, to put it succinctly. An ERP system is widely utilized in various sectors, including manufacturing and distribution, retail, technical services, construction, non-profits, healthcare, tourism, and more.
And now, even small to midsized firms may boost their business with an ERP thanks to the cost-effectiveness of cloud ERPs.
Now, let's check some,
ERP: Key Market Stats!
With a CAGR of 12.3%, the global ERP software market will increase from $167.33 billion in 2022 to $187.88 billion in 2023.
Over 63.0% of businesses use cognitive technologies like AI, blockchain, and cloud-based ERP to automate their operations.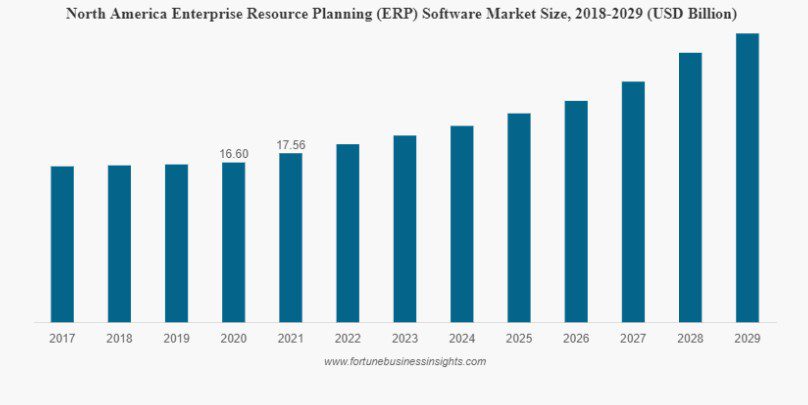 Implementing ERP can help a business save 25% to 30% on operational costs and 15% on input costs.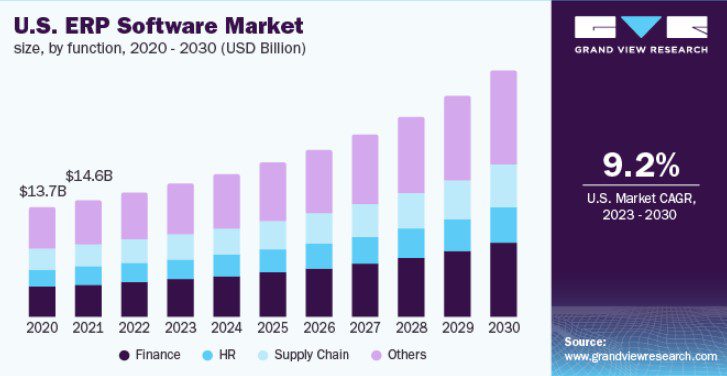 Moving ahead, now let's discuss,
Why use ERP software?
A business can benefit from ERP implementation in a number of ways, such as:
#1. Greater productivity
The best-standardized practices are used in the design of ERP systems, which helps increase business processes' effectiveness. Errors in company operations can be decreased by automation, increasing productivity.
#2. Better Workflow
Communication among cross-functional teams becomes effective since the ERP is a single source of truth for all the data provided across various parts of a business. With the use of an ERP system, a fluid workflow and data flow can be created.
#3. Consistency
The ERP can generate reports for several departments as it functions as a single authoritative source for all the information shared among various portions of an organization. The data and reporting uniformity may be kept using the unified reporting system.
#4. Boost ROI
Using an ERP system to manage your business results in efficiencies that make your business leaner. Many companies assert they can grow without hiring more employees or paying for more IT. The ERP implementation cost is readily outweighed by the return on investment of a more effective, fully optimized organizational environment.
#5. Data accuracy & security
The ability to produce, update, and delete data from the system allows one to secure and control data using ERP. Accuracy, transparency, and quality are enhanced when ERP serves as the only source of truth for data.
Apart some other benefits of using ERP are:
An ERP system offers a module for every department, facilitating teamwork across the entire corporation.
Although implementing ERP has a significant upfront cost, the system eventually pays itself by cutting overhead and optimizing procedures.
ERP eliminates paper-based operations and automates business processes.
ERP generates real-time data, which enhances decision-making among superiors and subordinates.
By giving each element of a final piece a barcode, ERP enhances stock management. Potential customers can learn more about the product by scanning the same barcode.
As you've seen the overview and benefits of ERP and CRM; now let's move forward and discuss,
Read More: Top Advantages Of Integrating ERP Software With Salesforce CRM
ERP vs. CRM: which one to choose?
Following are some differences that will help you to make a sound decision:
#1. ERP vs. CRM: Usability
The software functionalist is the main differentiator. The functionalism of software includes objectives as ERP manages the entire business, while CRM concentrates on clients and sales.
CRM software stands for customer data, while ERP software stands for financial data processing, which is another important distinction.
ERP software primarily aids in the administration of internal processes. The custom CRM software provides you with the system's external support.
#2. ERP vs. CRM: Integration & Management
Businesses can track interactions and activities with their clients and customers using custom CRM software, and their supply chains and distribution networks can be monitored using ERP software. Although ERP solutions combine operational systems like CRM, HR management, and supply chain management, custom CRM software simplifies databases and communications with customers.
#3. ERP vs. CRM: Customer Support
Customers today want to support that is quick, attentive, and available round-the-clock. CRM software comes with the most excellent assistance. Implement modern CRM software and guarantee round-the-clock client support. The custom CRM software can assist you in receiving top-notch service.
Additionally, provide the most excellent support for this CRM system. Therefore, it is safe to claim that custom CRM software primarily focuses on customers.
The overall performance of the organization is more of focus on ERP software. It provides a comprehensive performance regarding everything. A business person can see everything from every angle.
ERP software helps you centralize all the data to one system and manage it better than ever if you want to launch a combined local and worldwide business.
#4. ERP vs. CRM: Profitability
Technical and overhead costs are the two areas where ERP systems deliver significant cost savings and financial gains. CRM systems provide higher revenues by expanding customer bases and, consequently, the volume of their products and services. CRM can also increase sales volume.
Using the best ERP system, you may standardize your procedure throughout the entire company. Your system chains are all brought together by an ERP system. Get rid of all human errors and speed up your regular work.
By improving customer service, increasing economic insight into sales, maximizing production, and reducing internal manual processes on your behalf, custom CRM software will help you increase earnings.
#5. ERP vs. CRM: Installation Cost
Enterprise resource planning provides:
Greater customization.
A wide choice of premium features.
Services for all system sectors.
Although CRM software has numerous functions, ERP software is less robust.
Therefore, installing ERP software was far more expensive than installing CRM software.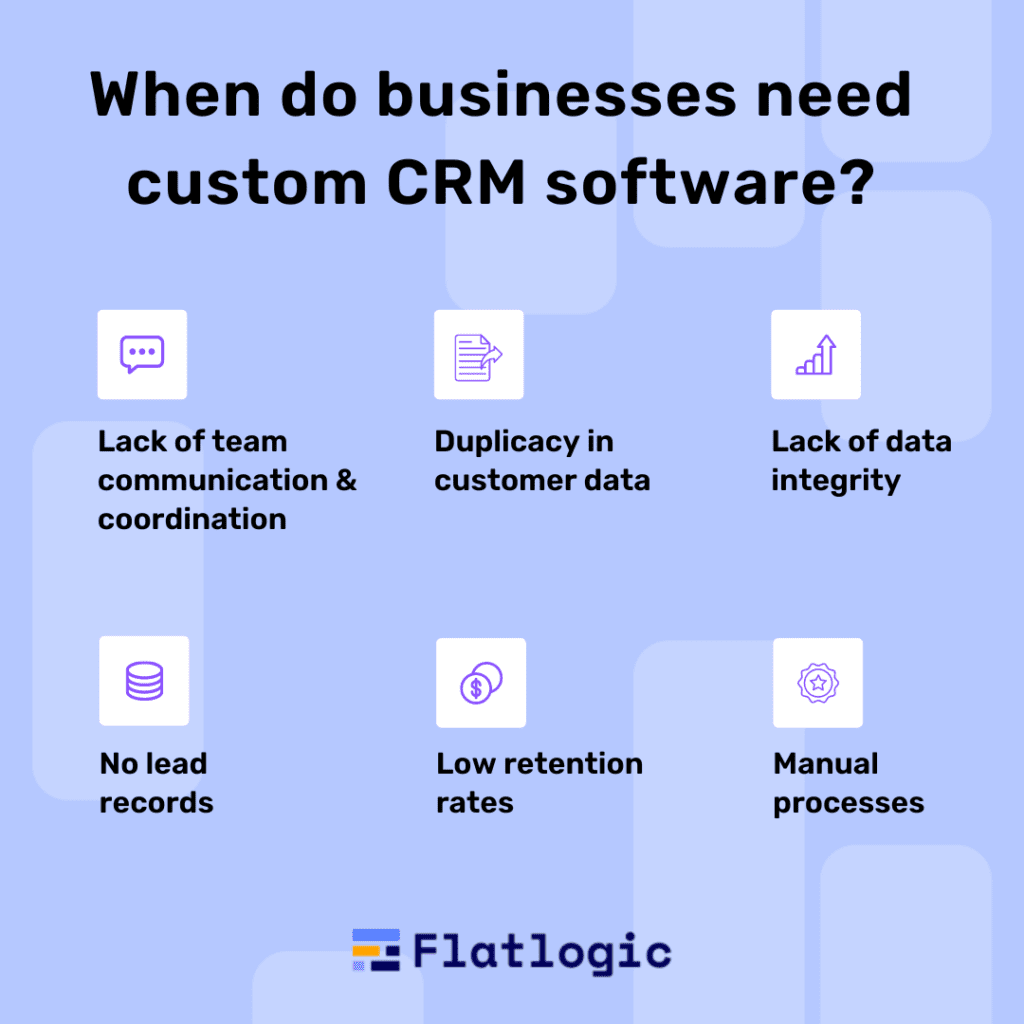 The infrastructure required to host and maintain the vast majority of cloud services will also be expensive.
As you've seen the critical differences between ERP vs. CRM; now let's move forward and discuss,
When do businesses need custom CRM software?
The custom CRM system is the most suitable for you if your company requires straightforward product customizations. A small number of your items might be able to fit into a set of custom fields without the need for separate "object types" in the IT system.
A low number makes it simpler to manually enter the various data for forecasting, billing, etc. A CRM is, therefore, adequate.
Additionally, the custom CRM system can be perfect for you if your primary objective is to boost sales and earnings. To achieve that goal, maintaining client relationships and nurturing leads is essential.
The following are the clear signs that indicate your business needs CRM software:
Manual processes
Duplicacy in customer data
Lack of data integrity
No lead records
Lack of team communication & coordination
Low retention rates
When do businesses need ERP software?
An ERP system might be necessary if your company wants to configure complicated products. This happens, among other things, when you need to keep track of past purchases or special discounting plans for your products.
Furthermore, the ERP functions best if you wish to give your consumers the option of self-service. With this ability, clients can independently add and delete products and even design configurations without getting in touch with you.
If automating the majority of your product configuration is what you prefer, an ERP system is best. You can automate several operations using this system, including adding products, creating and sending bids, and billing.
The following are the clear signs that indicate your business needs ERP software:
Use of traditional systems
Irregularities in a report tracking
Poor quoting
Inaccuracies, human-errors
Can businesses use both?
You ought to know more precisely how CRM and ERP compare and contrast now that we've discussed their differences. It also helps to comprehend how there are similarities between the two that, if you have the funds to invest in both, you might take advantage of!
Even though CRM and ERP have a variety of uses, when they are integrated, businesses will have a complete 360-degree perspective of their operations. The combination of these two systems may be beneficial in a variety of situations. For instance, a salesperson might look into a customer's purchasing history, credit status, preferences, or outstanding payments when running an upsell or cross-sell campaign. This will enable him to decide which specific product to recommend to that consumer.
Integrating CRM systems with ERPs aid in cost reduction and increase sales revenue. The CRM contributes to raising profitability, and the ERP aids in recovering cash trapped in ineffective procedures. When integrated, CRM and ERP may route funding to areas with the most need.
It is also possible to automate processes that you previously performed manually using ERP-CRM systems. Study up on sales automation. The settings must be made, and the solution will handle the work. The solution can manage the most time-consuming operations, such as keeping track of client transactions, producing reports, filling out forms, monitoring stocks, etc.
Conclusion
Digital transformation services are changing businesses through significant process improvement. ERP and CRM software both aim for maximum profitability and effectiveness.
Both ERP and CRM systems have distinct purposes and can be useful to different sectors for various needs. Multiple strategic and management units are brought together by ERP software, so they may easily transmit information and communicate with one another in real-time through a single computerized system.
However, custom CRM software is a good choice if you want to focus on building relationships with your clients and earning their confidence. In the long run, many industries and businesses will require both systems as more businesses focus on automation and improve their outcomes. As the business grows, the small and medium-sized sectors, which presently manage their financial and customer-related data on spreadsheets, will require these technologies.
Read More: