Are you wondering what makes an open-source, low-code platform effective? What criteria should you use when making your selection? Are there any drawbacks associated with low-code platforms? 
Research has shown that low-code platforms are becoming increasingly popular and have a wide range of applications spanning different industries. Low-code development is a concept that places the power of application development in the hands of the average user, without needing extensive knowledge of coding.
By introducing the top 10+ open-source, low-code platforms, this article outlines the cost, user interface, and overall performance of each platform, enabling readers to make an informed decision when selecting the best fit for them. After reading this article to the end, readers will be able to gain a thorough understanding of low-code platforms and the advantages of leveraging them.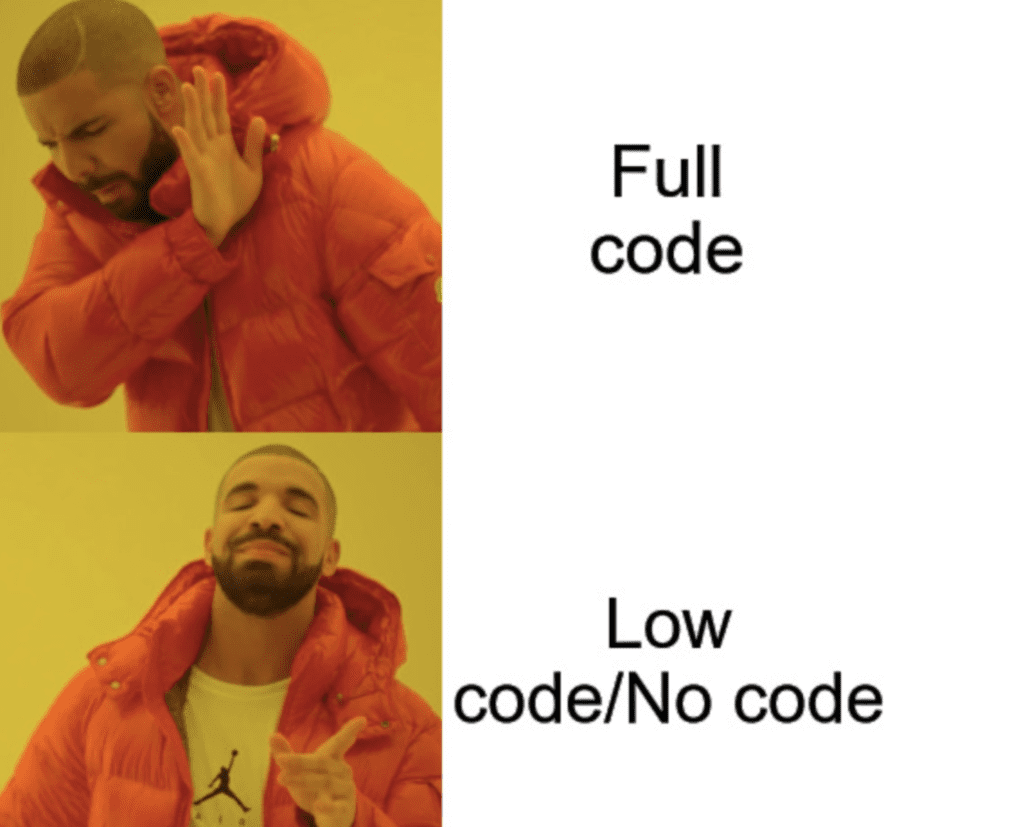 What is an Open-Source Platform?
Open-source platforms offer software that anyone can access, use, modify, and share according to the license terms. These platforms are developed and managed by communities of volunteer developers, without any vendor oversight. Businesses, developers, and everyday users can customize, deploy, and repurpose open-source software to meet their needs.
What is a Low-Code Platform?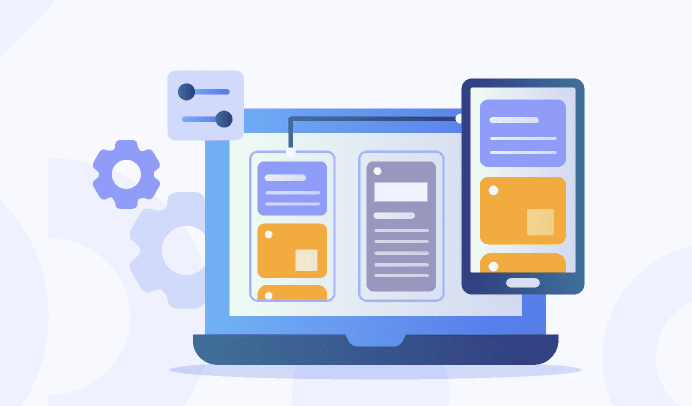 Low-code platforms make it easy for non-technical users to create software solutions. They provide a fast and convenient alternative to traditional software development. With low-code platforms, users can build apps, generate and combine APIs, and boost workforce performance and capacity. These platforms may demand writing a bit of code to remodel and deploy the software but are uncomplicated to install and fundamental for constructing conventional software feature sets and capacities that many companies use today.
Benefits of Using Open-Source Low-Code Platforms
Benefit #1 Accelerated App Development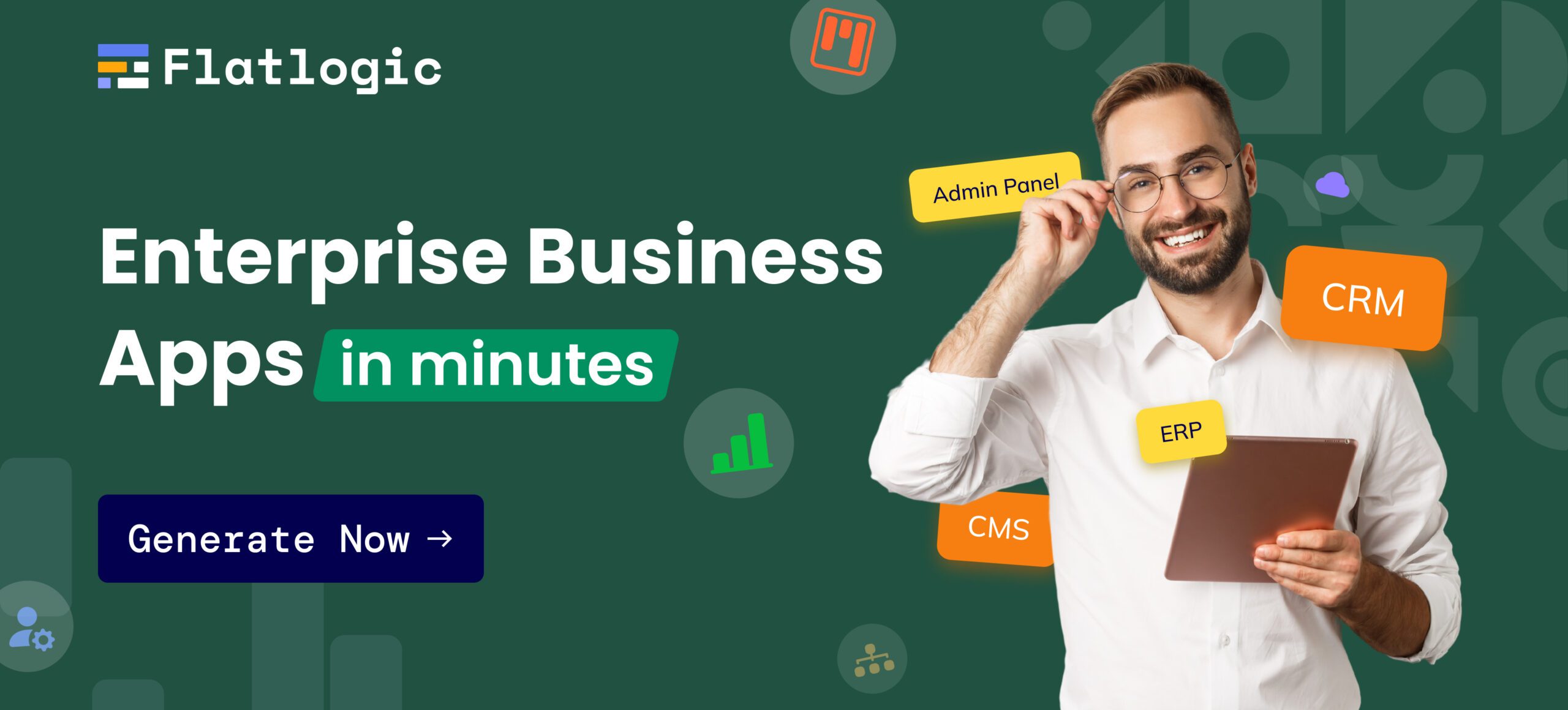 Using open-source, low-code platforms dramatically reduces the amount of time it takes to develop apps and software solutions. Whether users choose to use the platform as-is or customize elements to meet their objectives, they can rely on a base of features and functionalities that will help expedite the development process.
Benefit #2 Cost-Effective App Development
Using open-source coding platforms offers a cost-effective alternative to hiring software development teams or investing in custom programs. Although most of these platforms are free, some provide additional features at an affordable cost.
Benefit #3 Efficient Business Operations
Low-code platforms can be employed to quickly and efficiently conceptualize and build the software solutions teams need. Employees can use apps to improve collaboration, boost operational efficiency, and free up more time for critical tasks by automating repetitive processes.
Benefit #4 Multi-User Experience
Low-code applications provide users with simultaneous access to a single application, giving IT workers and non-coders a shared medium to access details necessary for completing their tasks. Without any disruptions, flaws, or errors, low-code projects can be managed securely.
Benefit #5 Flexibility
Open-source application development platforms allow businesses to be flexible and keep up with market and customer demands. Modifications can be made quickly and without loads of bureaucratic red tape. Furthermore, applications can be updated quickly and seamlessly.
Benefit #6 Rapid Transformation
In the digital age, businesses must transform to stay competitive. Open-source low-code application development simplifies this process by eliminating the need for detailed coding and programming to support all aspects of the business. This helps companies stay up-to-date with the ever-changing economic landscape.
10+ Best Open-Source Low-Code Platforms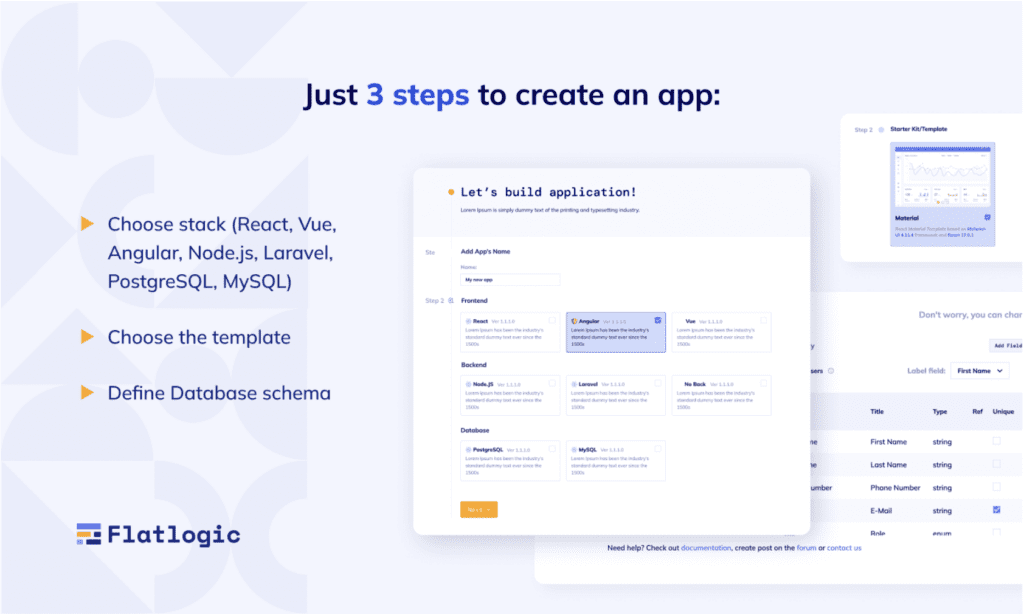 With Flatlogic, you can leverage the power of low-code development to quickly define the application's logic and behavior. The platform offers a visual logic builder, where developers can create workflows, define data relationships, and implement business rules using a drag-and-drop interface. This eliminates the need for manual coding, enabling faster development cycles.
One of the key strengths of the Flatlogic platform is its extensive collection of pre-built templates and themes. These templates provide ready-made designs for various application types, such as dashboards, admin panels, e-commerce platforms, and more. Developers can choose from a range of styles and layouts, saving significant design and development time.
Key features:
Intuitive interface for visually designing application UI.
Wide range of customizable UI components for easy integration.
Drag-and-drop interface for defining application logic and workflows.
Pre-designed templates and themes for various application types.
Connect with external APIs, databases, and services.
Easy exporting and hosting for deploying applications.
Rapid application development with minimal coding required.
Flexibility to customize UI components and application behavior.
Features to facilitate teamwork and collaboration.
Ability to handle growing application needs.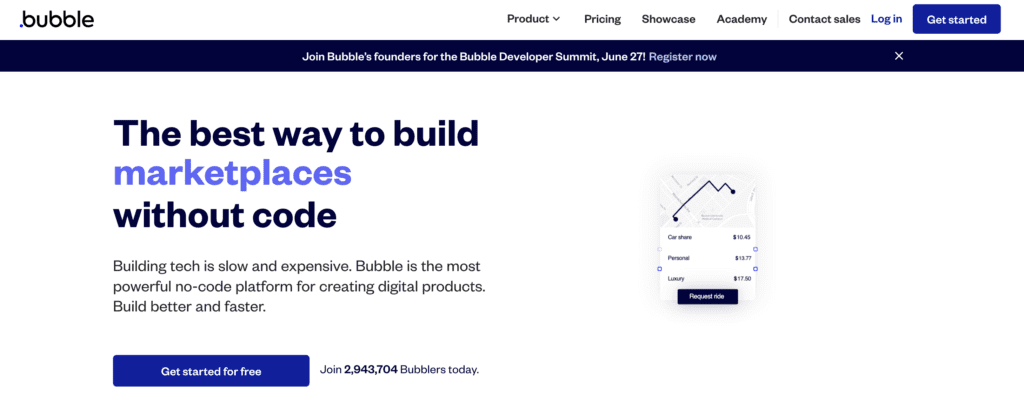 Bubble, developed by the Bubble Group, is an all-in-one platform that offers a no-code development platform, a visual programming language, and an application platform as a service. By leveraging Bubble, non-technical users are now able to create web applications without having to type a single line of code. This is done simply by dragging and dropping elements onto a page and defining automated workflows to adhere to the logic of the app. Bubble's mission is to eventually make the need for hand-coding web applications a thing of the past.
Key features:
Visual editor for designing UI and workflows
Database builder for creating data models
Powerful logic builder for defining application behavior
Integration with external APIs and services
Responsive design options for building mobile-friendly apps
Hosting and deployment options for launching applications

Mendix is a platform for quickly building and improving mobile & web apps at scale. It enables businesses to apply Agile and DevOps practices with stakeholders involved in application development. Low-code tooling is available through Mendix Studio Pro, extending capabilities via coding IDEs. This no-code/low-code combo helps align business experts and developers to speed up delivery. The cloud-native architecture and automation tools support enterprise-grade app deployment, management, and monitoring.
Key features:
Visual development environment with an intuitive interface
Collaboration tools for team-based development
Pre-built templates and modules for accelerated app development
Integration capabilities with various systems and data sources
Mobile app development and responsive design options
App deployment and hosting options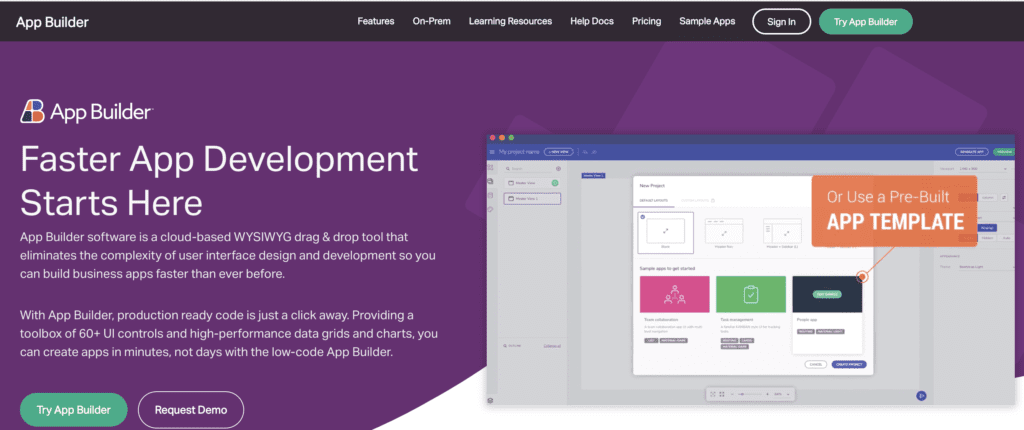 With App Builder, businesses can quickly and easily create and deploy mobile and web applications without needing to write complex code. This powerful platform allows users to design applications using an easy-to-use drag-and-drop interface and offers a selection of pre-made components and templates to get them up and running quickly. Additionally, App Builder enables users to automate common tasks like data entry and validation and provides a suite of tools for debugging and deploying their applications.
Key features:
Connection to various data sources
Easy integration with third-party services
Quick building and deployment of an applications
Drag-and-drop interface
Development tools to simplify debugging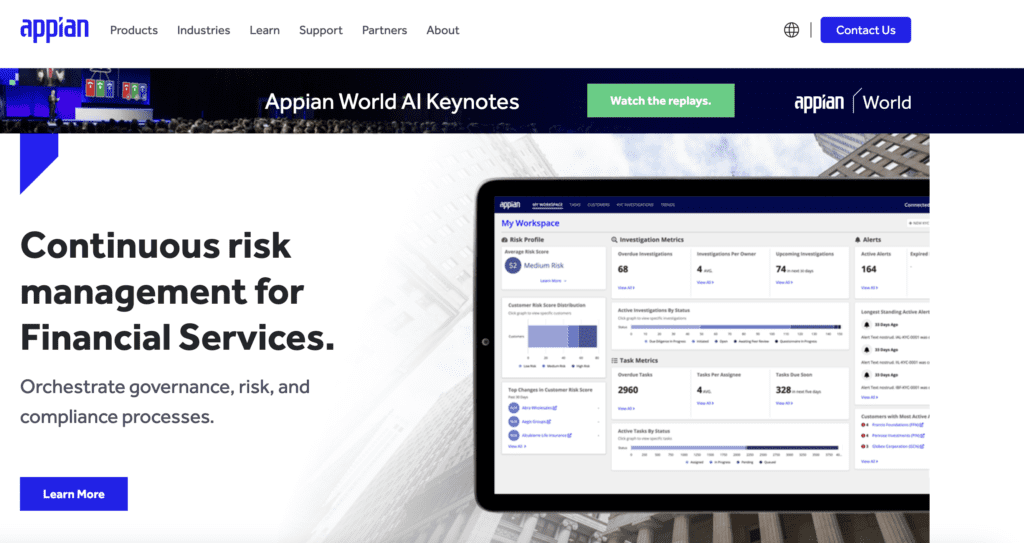 Appian is a cloud-based low-code development platform that facilitates the rapid creation of distinctive, fully-featured applications. Its intuitive, model-driven approach empowers non-technical users to construct powerful custom solutions without any programming knowledge. With this cutting-edge low-code platform, companies of any size can rapidly build nearly any program, ranging from a simple mobile app to an all-encompassing enterprise system. Plus, Appian's free low-code platform enables users to not only craft high-performance applications quickly but also control the entire software lifecycle.
Key features include:
Process modeling and workflow automation capabilities
Real-time analytics and reporting dashboards
Integration with popular enterprise systems and services
Collaboration and social collaboration tools
Mobile app development and native mobile capabilities
Low-code development for AI and machine learning applications

Microsoft Power Apps is a low-code platform that helps businesses create powerful applications without the need for coding. This intuitive platform leverages a drag-and-drop interface to construct applications from a vast library of pre-made components. Additionally, Power Apps can access data from popular sources such as Excel, SharePoint, OneDrive, and Azure SQL, making it an economical option for organizations seeking to construct custom applications without incurring hefty traditional development costs. Moreover, this top-notch low-code platform offers incredible benefits, like allowing citizen developers to craft applications without writing any code, making it easy for people to work with apps on different devices, customizing and extending apps to meet exact business specifications, and integrating with many popular data sources to implement robust data-driven solutions.
Key features:
Drag-and-drop app development with a rich set of pre-built templates and components
Seamless integration with Microsoft 365 and Azure services
Data connectors for easy integration with various data sources
AI Builder for adding AI capabilities to applications
Mobile app development and cross-platform support
Power Automate for workflow automation and business process management
Best React Open-Source Low-Code Platforms
React open-source low-code platforms are software development frameworks that make use of the React framework, an open-source JavaScript library, to facilitate the quick building of apps with minimum writing. With the use of these platforms' visual interfaces and pre-made components, users can easily configure and link numerous components to create complicated applications. These platforms, which make use of React, enable rapid app development, more efficiency, and simpler maintenance, making them a desirable choice for developers looking to speed up the software development process.

Flutter is an open-source low-code mobile application development platform created by Google. The platform for building mobile applications provided by Flutter is complete. The Dart programming language is used to create Flutter applications, which include a wide range of UI elements. If you want to create unique native mobile applications or quickly prototype concepts, Flutter is a great option. The functions of the smartphone are accessible to Flutter apps, which are highly optimized.
Key features:
Expressive UI Framework: Create visually appealing and interactive user interfaces.
Hot Reload: See instant changes in the app during development.
Cross-Platform Development: Build apps for iOS, Android, web, and desktop using a single codebase.
Rich Widget Library: Extensive collection of pre-designed UI components for faster development.
High Performance: Benefit from Flutter's high-performance rendering engine for smooth app experiences.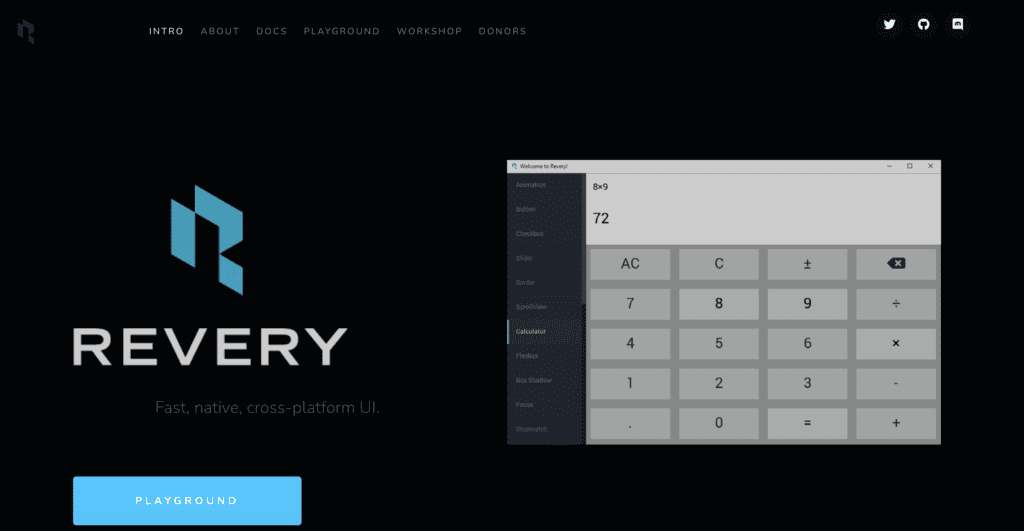 Revery is an open-source, React-based low-code platform for developing websites and mobile applications. The Revery platform enables the creation of native-looking mobile and web applications rapidly. Revery offers a UI library, tooling, and debugging tools to assist developers in rapidly and efficiently building robust and personalized apps. Due to their tremendous extensibility, Revery apps let designers create working prototypes of brand-new concepts or goods very rapidly. Revery is a great option for developers searching for an open-source, low-code platform with a top-notch React framework.
Key features:
Native Desktop Applications: Develop cross-platform desktop applications with native performance.
Functional Programming: Utilize functional programming paradigms for cleaner and more maintainable code.
Reactive Programming: Build responsive applications with automatic data propagation and UI updates.
Styling Options: Leverage CSS-in-JS or custom styling solutions for application design.
Hot Reload: See real-time changes without restarting the application during development.
React Native is the open-source low-code mobile application development platform created by Facebook. For the development of mobile applications, React Native offers a complete platform. React Native apps are highly optimized for mobile and have access to a wide range of native device functionalities. With JavaScript and React, developers can build native mobile apps. When it comes to building native mobile applications without having to deal with various codebases, React Native is a fantastic option.
Key features:
Cross-Platform Development: Build mobile apps for iOS and Android using a single codebase.
Native-like Performance: Utilize native components for optimal performance and user experience.
Hot Reloading: Instantly preview changes during development without restarting the app.
Third-Party Library Integration: Access a vast ecosystem of libraries and plugins for extended functionality.
Live Updates: Deploy updates to the app without requiring users to download new versions.
Summing Up
In conclusion, open-source low-code platforms are an ideal tool for businesses to quickly and cost-effectively develop, test, and deploy applications to a wide variety of devices and platforms. These platforms allow businesses to create powerful applications with minimal investment in time and capital while providing a way to rapidly prototype and iterate on ideas. With these advantages, open-source low-code platforms are expected to be a major player in the software development landscape in 2023.
When it comes to low-code platforms, Flatlogic offers a wealth of benefits for both developers and businesses. By using Flatlogic's low-code platform, you can enjoy the following advantages:
Accelerated Development. Flatlogic's low-code platform significantly speeds up the development process by providing pre-built components, templates, and drag-and-drop functionality. This allows you to quickly create applications without having to write extensive code from scratch.
Increased Productivity. With a low-code platform, developers can focus on higher-level tasks and logic, rather than spending excessive time on repetitive and mundane coding tasks. This improves overall productivity and allows teams to deliver projects more efficiently.
Simplified Maintenance. Flatlogic's low-code platform offers centralized management and easy-to-use interfaces, simplifying application maintenance and updates. This ensures smoother operations and reduces the time and effort required for ongoing maintenance tasks.
Collaboration and Teamwork. The low-code platform provides a collaborative environment where developers, designers, and business stakeholders can work together seamlessly. With visual development tools and real-time collaboration features, teams can collaborate effectively and align their efforts toward a common goal.
Flexibility and Customizability. Flatlogic's low-code platform allows for flexibility and customization, enabling developers to tailor applications to specific business needs. You can easily modify and extend functionality using the platform's intuitive interface and configuration options.