If you are looking for an effective and efficient way to manage your business, then a custom enterprise resource planning (ERP) system is the perfect solution. Custom ERP systems allow businesses to collect, store, and analyze information from several departments in one database, making it easier for executives to manage all fundamental business operations. Furthermore, the implementation of such software optimizes various workflows and processes. While there are various commercially available systems, custom ERP development ensures that you get a solution tailored specifically to your needs.
There is always room for development, even if your product is excellent. This is especially true for businesses looking for a custom ERP solution. The increasing need for specific software solutions serves as evidence of the need for a unique ERP system.
If you are considering an ERP system for your business when making this important decision, ask yourself: What are the benefits of a custom ERP system? How does a custom ERP system compare to an off-the-shelf version? Is it the right fit for my business needs? Whatever you decide, it's important to choose the right system for your business. In this article, we'll talk about all of the above in developing custom ERP systems and provide some helpful tips on how to choose the right one. Let's dive into the details.
What is custom ERP?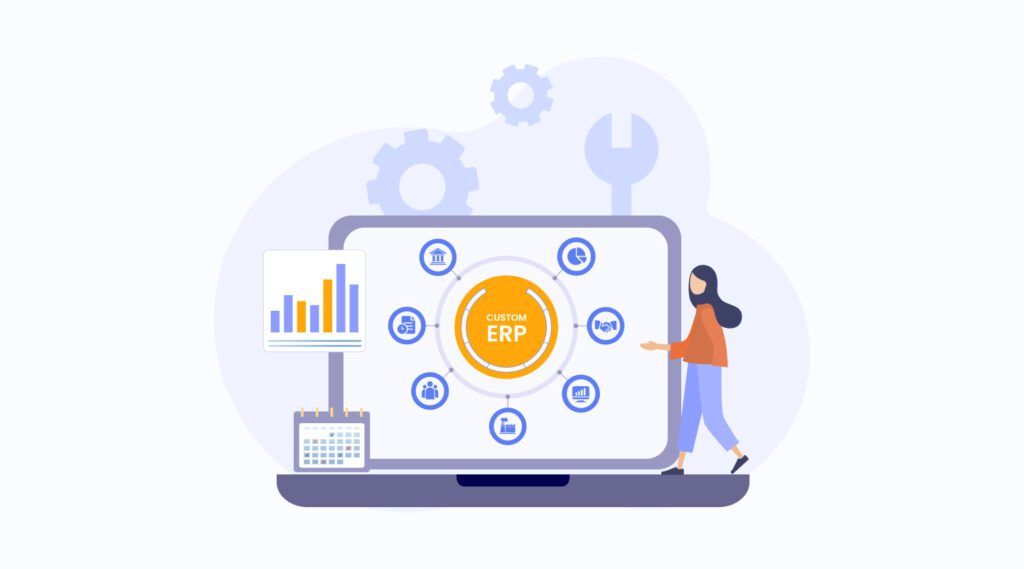 ERP stands for Enterprise Resource Planning is a sophisticated software package that automates all business operations procedures. It aids businesses in optimizing efficiency and accuracy by automating data input and offering real-time visibility into their operations, consequently reducing the time and costs associated with managing operations.
An Off-the-shelf (OTS) ERP system is a pre-packaged, ready-to-deploy solution that comes with verified capabilities. It is designed to meet the needs of a wide range of businesses, however, its "one-size-fits-all" approach may not be the best solution for addressing specific challenges.
Custom ERP (as opposed to OTS solutions) system is designed around the unique requirements of a particular business. It offers a complete solution that unifies all of the business operations into a single platform and is created to match the particular needs of a particular business.
How Custom ERPs Different From Off-the-shelf ERPs
Custom ERPs are created especially for the individual or business that requires them, in contrast to off-the-shelf ERPs. This makes it possible to develop a solution that is more tailored to the unique requirements and needs of the customer and is also more effective, efficient, and affordable. The capacity for custom ERPs to often be upgraded and modified over time typically allows for more flexibility and scalability. Moreover, custom ERPs may be integrated into other systems to increase their versatility. Off-the-shelf ERPs, on the other hand, are pre-packaged, unchangeable systems with frequently limited scalability.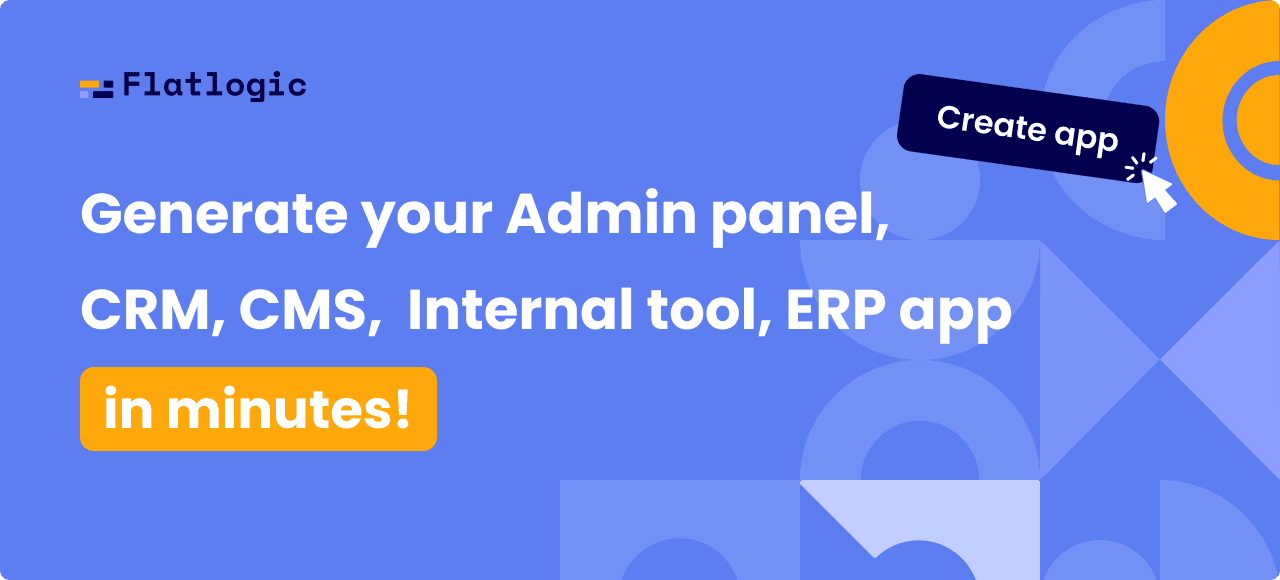 Usage of custom ERP
Custom ERP systems are produced to assist businesses in managing their operations more effectively. As they are customized to the particular requirements of the organization, they are more adaptable and able to offer a greater level of control. Sales, inventories, financial and operational procedures, customer support, and more could all be managed by custom ERP systems. Moreover, they can offer data to assist organizations in making wiser decisions. Customer Relationship Management (CRM), Human Resources (HR), supply chain management, and other business applications are frequently incorporated into custom ERP systems. This facilitates data access and the automation of numerous business operations. Custom ERP systems can help gain businesses a complete picture of their operations and can be extremely motivated, customer experience, and revenue.
Benefits of custom ERP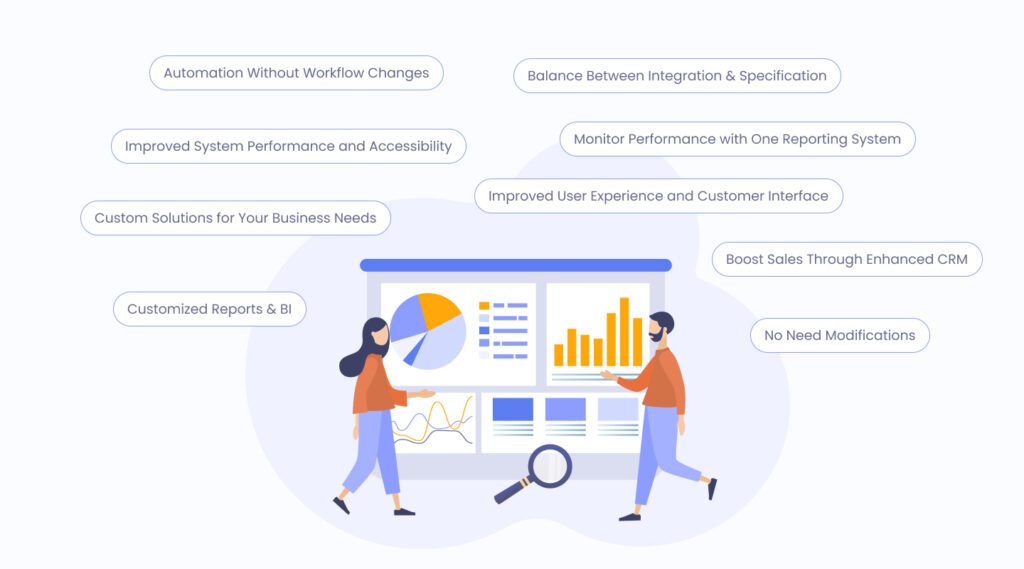 ​​The main benefit of having custom software is that it can help focus on the specific needs and resources of businesses. It is essential to understand how to effectively incorporate and monitor all data management and workflows of the business from a single platform. These are some of the benefits of possessing a custom ERP system:
Benefit #1: Improved System Performance and Accessibility
The goal of custom ERP is to be as effective and efficient as possible while offering more application availability than other systems. Businesses may easily adapt the software to their changing demands thanks to its modular architecture, saving money on potentially less-effective items.
Benefit #2: Balance Between Integration & Specification
Businesses may gain from an integrated workflow across departments with a custom ERP system, which will lead to better connections between buyers and suppliers. Different departments and teams can have their customized system thanks to the fact that custom ERP systems are created to match the specific needs of each business. Software developers may ensure the system is suited to the precise specifications and circumstances of the company's numerous internal divisions and departments by developing and building a custom ERP that is adapted to the company's particular system needs, workflow, and applications.
Benefit #3: No Need for Modifications
Businesses may save time and effort by using custom ERP systems instead of converting their current database architectures, applications, and tech stacks to the new system. Software development businesses may offer a 'plug and play' system by designing a custom ERP that suits the company's current infrastructure, networks, capabilities, and resources, allowing enterprises to swiftly adopt the new system and begin profiting from its features.
Benefit #4: Custom Solutions for Your Business Needs
Custom ERP systems are created to deal with issues frequently encountered by businesses. The developers of such systems build the framework, features, and functionalities based on what they've picked up from past customers. This is a major plus point since it draws from the knowledge of many clients and businesses.
Benefit #5: Automation Without Workflow Changes
Custom ERP can automate multiple operations within the company's existing systems, databases, infrastructure, networks, and applications, without requiring extensive changes and modifications. This guarantees seamless integration while reducing any gaps between the company's existing system and custom ERP. One important duty that may be automated with a custom ERP is the periodic report generation process, which makes it simpler to keep track of business activities.
Benefit #6: Improved User Experience and Customer Interface
Without a custom ERP system, many companies suffer from a lack of cohesion between their frontend website and backend database, middleware, and application systems. Even with a custom ERP system, plug-and-play capabilities for productivity applications and workflow systems are not always available. Software development companies can provide a solution to this issue by creating custom ERP frameworks and systems that allow for easy integration of existing infrastructure, workflow processes, and productivity applications.
Benefit #7: Monitor Performance with One Reporting System
Gain total visibility into all business processes, from Finance and Accounts Management, Human Resources to Manufacturing, Marketing, and Sales, and Supply Chain and Warehouse Management. Automate departmental workflow and track each department's activities with a single reporting system, allowing for easy analysis of performance statistics and assurance that nothing is overlooked.
Benefit #8: Customized Reports & BI
Business is all about understanding the past and using that knowledge to make better decisions in the present. Statistics and analytics are essential for this, as they provide us with the data and insights needed to make informed choices. We can tailor our reports to our exact needs and integrate our business intelligence tools to gain even more statistics and insights.
Benefit #9: Boost Sales Through Enhanced CRM
Businesses may build a CRM that fits their unique demands and operations by deploying a custom ERP system. Their sales teams will be more efficient and productive thanks to our unique CRM system and platform. Several businesses are currently looking toward the use of consumer-level ERP solutions. The business may expand its marketing efforts and enhance the conversion of leads into sales by creating an ERP system that incorporates customer and CRM data. A smooth cooperation between the many departments involved in sales will be made possible by the custom ERP's complete integration with all of the business's sales platforms and assets. With this technology in place, sales teams may use customer behavior and purchase history information more effectively.
How to Formulate Clear Requirements for Custom ERP Development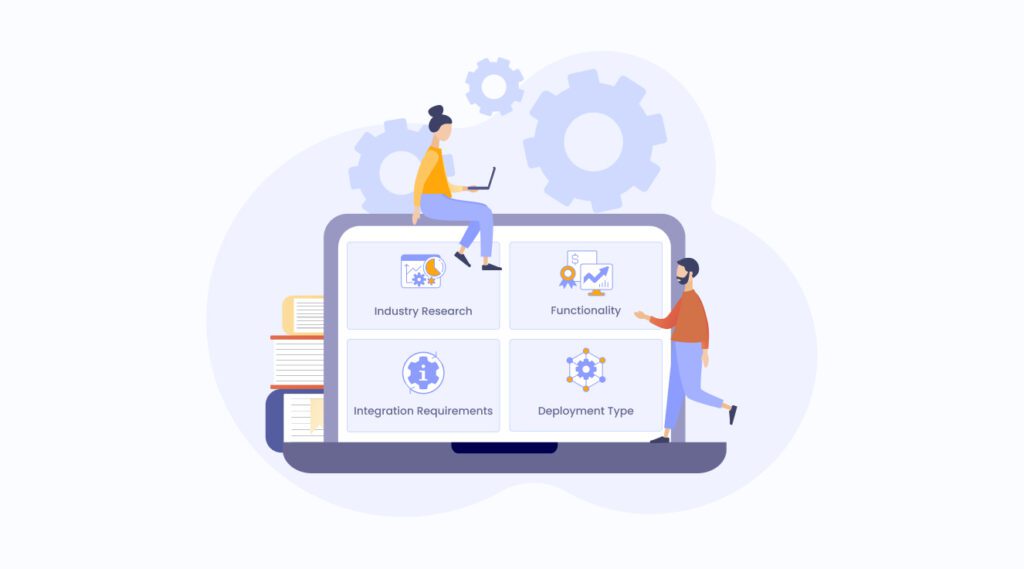 Below are some identified necessary factors to create a custom ERP system that meets your individual needs. They include outlining your core requirements, considering how the system will fit with existing processes, and determining its scalability. With the help of this information, you can build the ideal custom ERP system for your business with confidence.
Functionality
If you are looking to implement an ERP system, it is necessary to consider the functionality that it needs to include. To make this process easier, you can examine the features of your current system and identify what can be improved. Additionally, it is also beneficial to discuss with your team and ask questions such as:
What processes can be automated for resource optimization?
What visibility or excessive reporting does each department require? Which information do different departments need access to?
Why is a custom ERP system being considered in the first place?
Answering these questions will help you to determine the functionality that needs to be included and assign user experience in the future.
Industry Research
Success depends on being current with developments in your industry. Research for most successful competitors and the top-performing apps for your sector. Learn about the benefits and potential pitfalls of these technologies by watching demos and reading reviews. To ensure that your expectations are realistic and your custom ERP system meets the specific needs of your business. It is best to engage an experienced team of custom ERP development professionals to conduct a comprehensive market analysis.
Integration Requirements
The key to successful development is integrating your custom ERP system with external applications. The development team will have a clear knowledge of the project scope if you gather all of the software applications that each department in your company uses. Systems for managing client relationships, inventories, online storefronts, project management tools, accounting software, and more are examples of apps that should be on the list. Your development team will be better equipped to provide you with accurate time and cost estimates if you have this information available.
Deployment Type
Businesses must choose between an on-premises and cloud option considering custom ERP development. On-premise software is installed on the company's hardware, while cloud-based systems are hosted on the vendor's server and accessed online. In the past, most companies opted for on-premise ERP systems cloud solutions have become increasingly popular due to the numerous advantages they offer:
faster implementation,
lower initial costs,
less responsibility for security,
easier collaboration between teams,
automated updates provided by the vendor.
Cost of ERP Software Development
Custom ERP solutions can range significantly in cost depending on the complexity and scope of the project. Factors that influence the total cost of a project include the number of people on the development team, the features and integrations required, and the duration of the project. Generally, custom ERP development projects can cost anywhere between $25,000 to $5,000,000, making it a more expensive option when compared to the average cost of a third-party system for resource planning which typically runs from $9,000 per user for mid-sized and large-scale enterprises respectively. The most crucial factors:
Size of Company
The size of your business will affect the amount of time and effort needed to create an ERP system. As the size of your business grows, the demand for a robust and comprehensive custom ERP system increases. This entails a more complex organizational structure, various business processes, and the need to integrate multiple software products across departments. To meet these demands, an experienced ERP development provider must be engaged to create a custom ERP system with all the required modules, integrations, and features. This will ensure that the custom ERP system is tailored to meet the specific needs of your business, no matter how large it may be.
Tech Stack
When considering custom ERP development, there is a distinction between open-source software and proprietary solutions. Open-source software is free to the public, while proprietary solutions require the provider to pay a subscription fee for the platform. Additionally, the more sophisticated the technology, the more costly the developer's time will be. When selecting the right custom ERP solution for your business, it is important to consider the cost implications of open-source versus proprietary solutions, as well as the complexity of the technology. This will ensure that you get the most suitable custom ERP system for your business needs.
Development Team
For a comprehensive and versatile custom ERP system, it is necessary to hire a larger team of specialists, which will help to reduce the overall implementation timeline. Generally, the cost of a medium-complexity custom ERP solution is around $40,000 per module. This cost is comparable for testing, deployment, and data migration, so for a custom ERP system with 5 modules, the total cost will be approximately $250,000. To ensure that your custom ERP system is cost-efficient, it is important to accurately estimate the amount of time and resources that will be needed.
Summary
Custom ERP development allows companies to have a tailored system that meets their specific needs, allowing them to manage resources more efficiently, streamline their workflows, and modernize the enterprise. By investing in a customized solution, companies can ensure that their unique requirements are taken into account, as well as facilitate the adaptation of staff to the new system and avoid overspending on unnecessary features.
Custom ERP with Flatlogic
Flatlogic Platform offers an easy way to generate a custom ERP solution with full control over the source code and scalability. With full control over the source code, you can make sure that you have the right features, scalability, and performance to match your business needs. Plus, with no-code development, you don't need to be an expert programmer to make the necessary changes – making it easier to scale and customize as your business grows. With Flatlogic Platform, you have the flexibility to create a custom ERP solution that is tailored to your needs, while still having the scalability of more traditional development.
How to Create Custom ERP with Flatlogic Platform?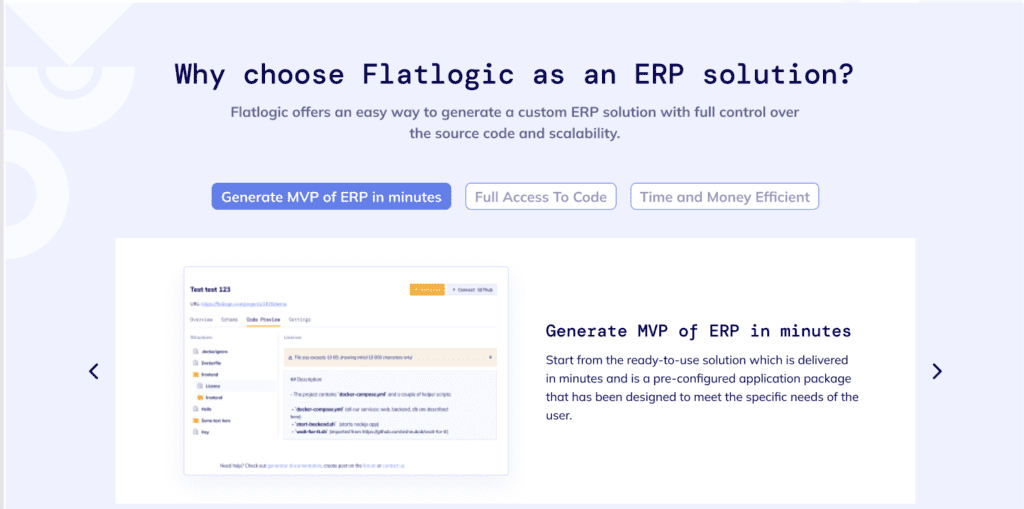 Using the Flatlogic Full-Stack Generator you can create CRUD and static applications in a few minutes. To start using the Platform, you need to register on the Flatlogic website. Clicking the "Sign in" button in the header will allow you to register for a Flatlogic account.
Step 1. Choosing the Tech Stack
In this step, you're setting the name of your application and choosing the stack: Frontend, Backend, and Database.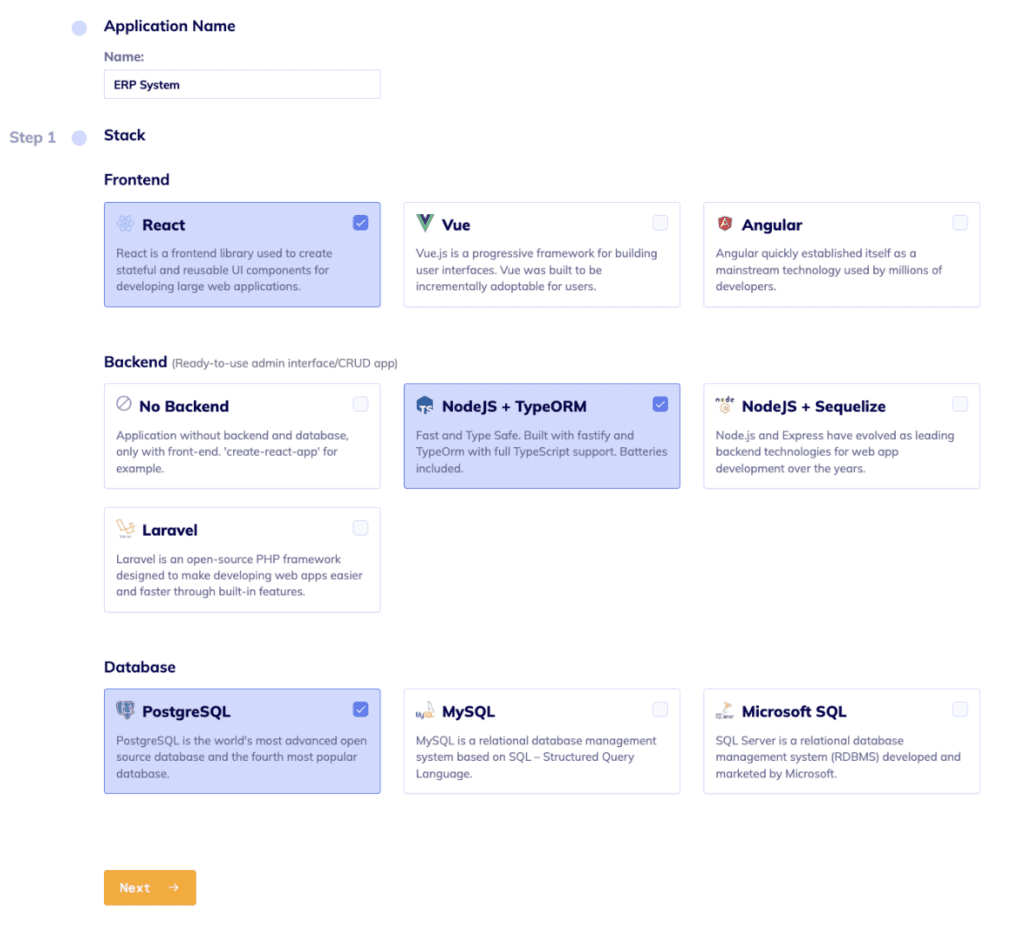 Step 2. Choosing the Starter Template
In this step, you're choosing the design of the web app.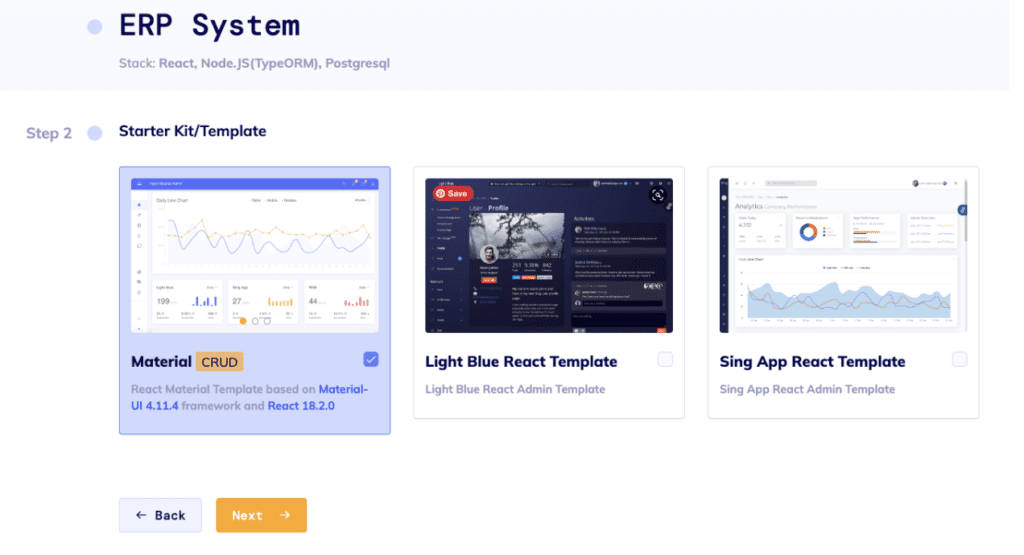 Step 3. Schema Editor
In this step, you can create your database schema from scratch, import an existing schema or select one of the suggested schemas.
To import your existing database, click the Import SQL button and select your .sql file. After that, your database will be opened in the Schema Editor where you can further edit your data (add/edit/delete entities).
If you are not familiar with database design and find it difficult to understand what tables are, we have prepared some ready-made sample schemas of real applications that you can modify for your application:
E-commerce app;
Time tracking app;
Book store;
Chat (messaging) app;
Blog.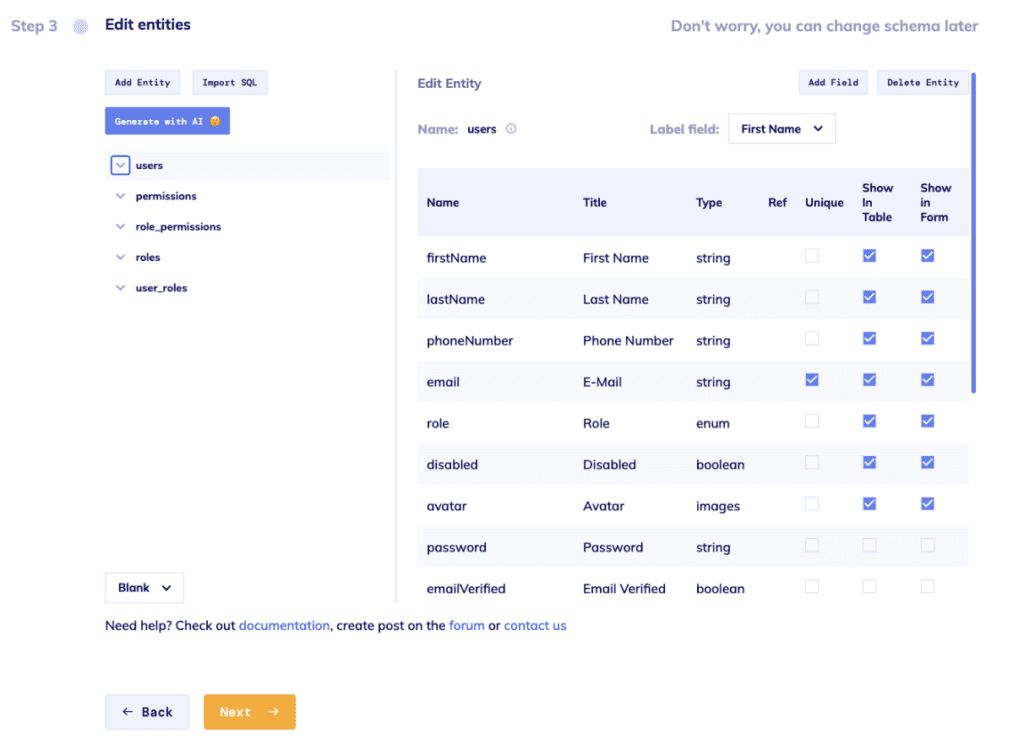 Or, you can define a database schema and add a description by clicking on the "Generate with AI" button. You need to type the application's description in the text area and hit "Send". The application's schema will be ready in around 15 seconds. You may either hit deploy immediately or review the structure to make manual adjustments.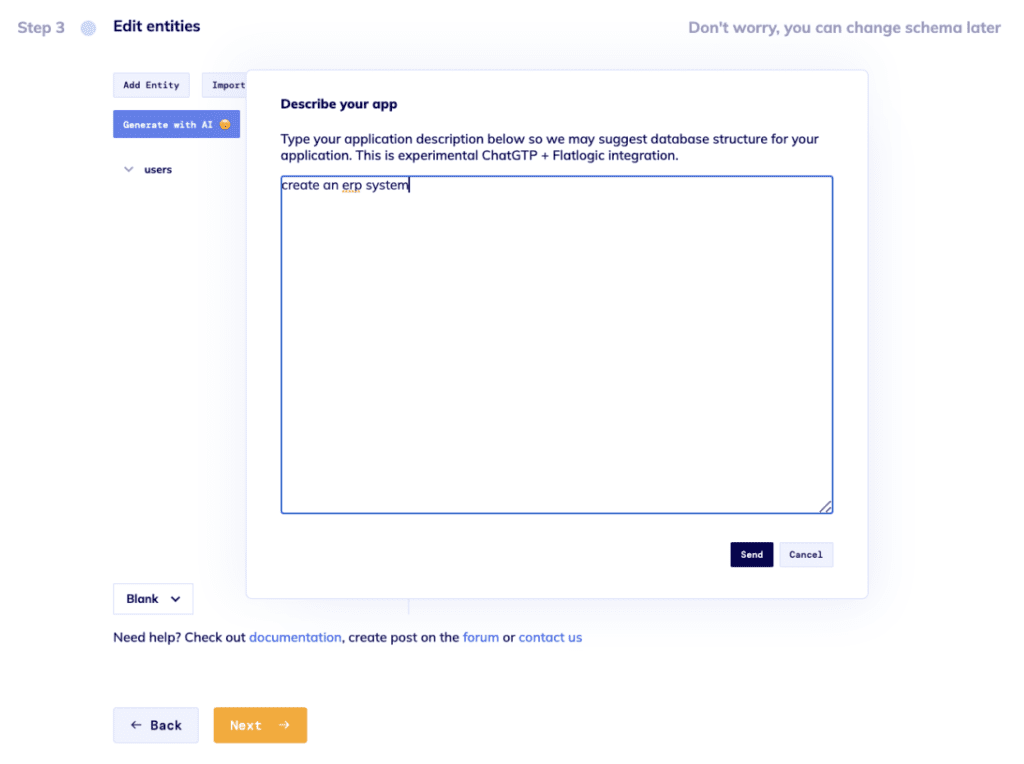 Next, you can connect your GitHub and push your application code there. Or skip this step by clicking the Finish and Deploy button and in a few minutes, your application will be generated.