Running a highly efficient eCommerce business goes beyond selling top-notch articles and investing in high-end marketing strategies. While these two things matter in the digital commerce world, the choice of payment methods tops the list of successful online business operations.
If you're, however, asking yourself – What are the safest payment methods when selling online? Which payment gateway will give the best results for eCommerce? What is the cheapest way to accept online payments? Keep reading!
In essence, it is important to choose the best payment method(s) for your online store if your goal consists of generating revenue and success. Besides, this choice directly impacts the user experience as it allows your audience the opportunity to pay for their orders the way it suits them. Also, various payment methods can help you attract different audiences and take your online store's visibility to new heights.
If you are at the beginning of the eCommerce journey and you're not sure which payment methods to choose, keep reading. In this post, we will reveal the top 8 payment models, including the 6 best payment gateways to be used in 2023.
Let's go!
5+ Aspects to Consider When Choosing a Payment Method for Your eCommerce
Payment gateways aim to provide a more streamlined, much faster, and more secure payment system. In essence, such a service ensures that the customer's payment is being processed right away, without unnecessary delays or money transfers that could last forever.
However, not all payment methods are created equal.
Let's dive into the 5 most important characteristics of payment method services to keep in mind when looking for a solution:
Payment Flow
The payment flow is the most fundamental aspect of a payment gateway service. Depending on your needs and preferences, you can choose between an integrated payment form, an escrow system, or an embedded iFrame on the website. Since each of these options is beneficial in its way, the final choice is up to the online store owners.
Security and Reliability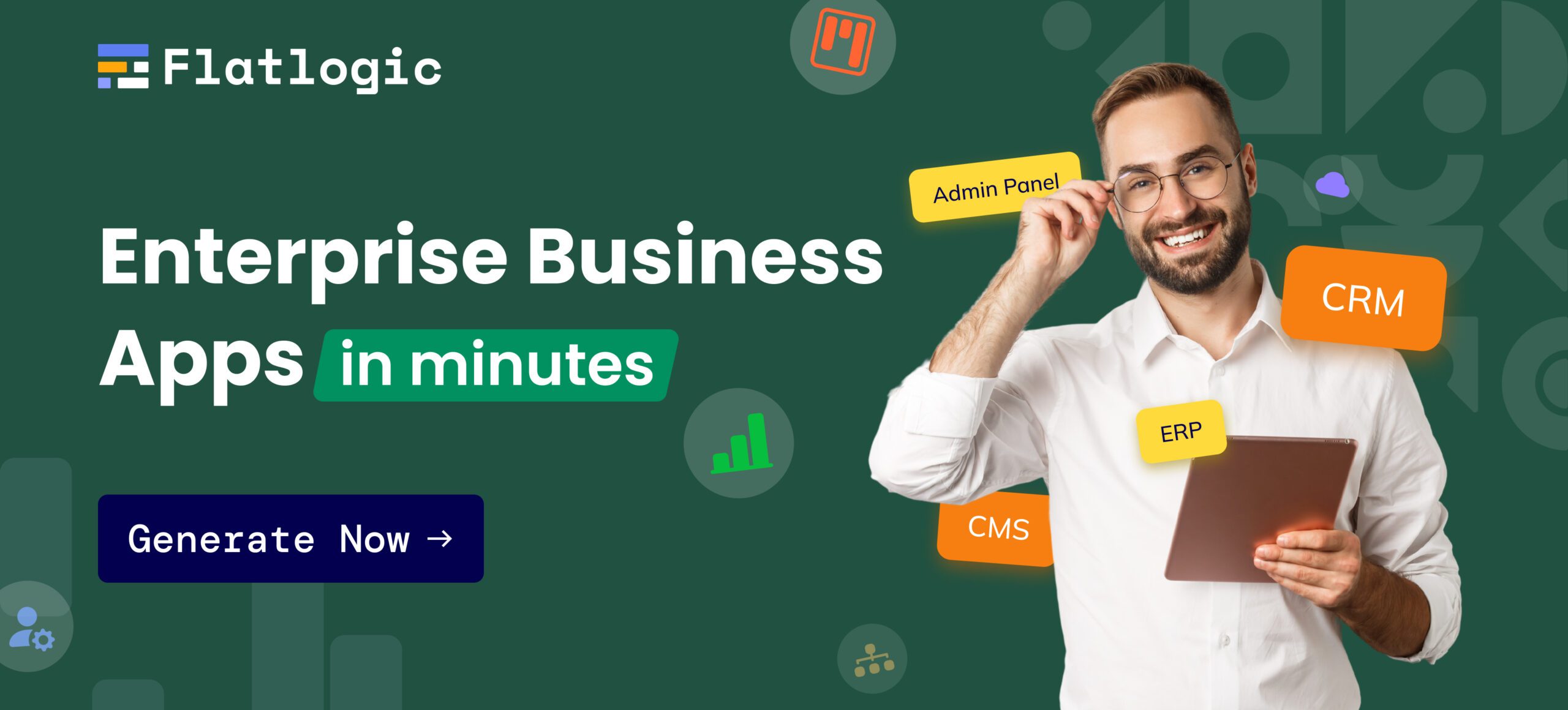 Security and reliability are the most important feature you want to offer to your audience. For that reason, it's always recommended to go for payment gateways that follow the latest security standards set by PCI-DSS or similar. Otherwise, your payments may be redirected to third-party websites that are out of your control, causing a series of unforeseen vulnerabilities that affect the overall website security.
Fees and Service Agreement Terms
Each service provider comes with different conditions and requirements regarding the fees and agreement terms. It means that, while most gateway methods are charged per transaction, others might offer slightly different pricing methods. That's why it's good to compare several models and implement the one that meets your business needs and does not exceed your budget limits.
Overall Efficiency
Transaction efficiency is another aspect of a payment gateway that should not be taken for granted. According to the research, most customers will give up the purchase if their payment cannot be processed or takes too much time for it to be completed. In addition, mandatory registrations or too many fields can also contribute to a higher bounce rate, which is not good for your SEO practices and overall rankings.
Ease of Integration
If you want to launch your eCommerce as soon as possible, it's advised to opt for a payment method whose integration is not overly complicated. Although most providers offer detailed instructions on how to integrate their API solutions into eCommerce websites, things don't always go as planned. For that reason, do comprehensive research before making a final decision and find the model whose integration will go smoothly.
What are the Most Common Payment Methods for eCommerce in 2023?
Trends in the eCommerce industry keep changing, resulting in the development of new, different payment methods. That being said, any eCommerce owner that wants to succeed online needs to incorporate several models that let them attract a broader audience, generate revenue and increase sales.
If you want to thrive in the eCommerce industry, you should not forget to include the following payment methods in your online store:
Credit and Debit Cards
Despite the broad range of cutting-edge payment methods that exist today, nothing beats credit and debit cards. Most websites accept widely known Visa, MasterCard, and AmericanExpress, which stand for the most secure and reliable brands in the financial industry. Besides, it's what clients use mostly.
Since transactions with credit or debit cards can be easily processed, they are usually the number one choice when it comes to online payments. So, your online store must accept them to establish a presence in the digital market.
Digital Wallets
E-wallets (Apple Pay, Google Pay, Samsung Wallet, PayPal…) aim to become a one-in-all financial package that lets users store their funds, tickets, and other important documents in one place. While e-wallets are currently popular among younger customers, studies have shown that this payment model keeps growing and that many eCommerce stores have started incorporating it into their systems.
Digital wallets may not be the most popular payment choice at the moment, but many studies predict that their use will tremendously increase by 2025. That said, it's time for eCommerce owners to start including them.
BNPL (Buy Now, Pay Later)
The "buy now, pay later" model has become one of the most commonly used payment methods on eCommerce websites. Its name is self-explanatory, and it's the main reason why users love it so much. And although it has some disadvantages, it is still worth adding to online stores. Depending on your location and the geographical area you are targeting, you can choose between different BNPL providers, but Klarna is one of the most used and efficient ones.
Cash-on-Delivery
Although the cash-on-delivery method is considered obsolete by younger generations, it is still a viable payment option offered by many eCommerce websites. It allows your customers to pay for the goods once they receive them and check if the order is damaged or doesn't match the provided description. Besides security, the reason why buyers sometimes opt for cash-on-delivery is that they don't have to pay for their purchase immediately.
However, the COD method can be pretty costly for eCommerce owners. Namely, the couriers often charge high costs for delivery services and there is a high risk of fraudulent purchases or fake orders.
Paying via Links
Paying via links adds an extra layer of convenience to customers, who can easily pay for the order by following the link they've received via email or SMS. But despite the overall benefits of paying via links, customers still prefer e-wallets and simpler payment methods like credit or debit cards.
Payments with QR Code
QR codes are the fastest and safest payment methods used today. Besides being simple to use, they can speed up the entire process and help eCommerce owners boost their sales and increase revenue.
Besides, QR codes let users choose their preferred payment gateway. That said, when users are redirected to the checkout page, they can choose between paying with a credit/debit card, PayPal, Apple or Google Pay, or other accounts.
Cryptocurrency
Different cryptocurrencies are nowadays used by millions of people. And while there is still a certain controversy around them, digital currency is commonly used as an alternative payment method in certain eCommerce stores. In addition, it is very convenient. For example, a user can buy eos with a credit card, store cryptocurrencies in the account, and then, when needed, not withdraw funds to the bank account but immediately pay for the purchase on the website.
The disadvantage of payments in crypto lies in its frequent fluctuations in value, which might affect the owner's revenue and disrupt their business operations in the long run. However, if the audience you're targeting is eager to invest in crypto, offering it as a payment method can be a good starting point.
Bank Transfers
Despite not being the fastest and most streamlined payment method, a bank transfer is still popular among wholesale transactions and B2B sectors. However, bank transfers are not the best solution for eCommerce businesses due to the difficulty to track transactions and determine if they were completed. For that reason, the seller can be at a huge loss, which is why it's recommended to stick with payment models that can be monitored.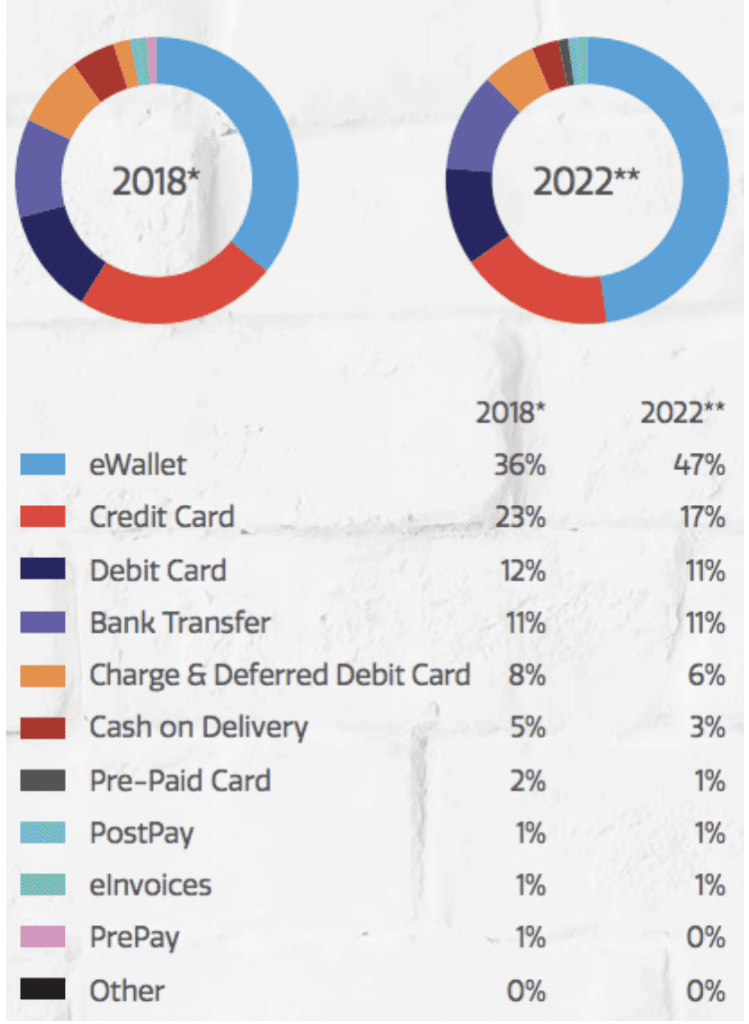 6+ Payment Gateways for eCommerce to Go For in 2023
Now that we have explained the critical aspects of the most popular payment methods, it's time to jump into the 6 best solutions worth choosing in 2023.
PayPal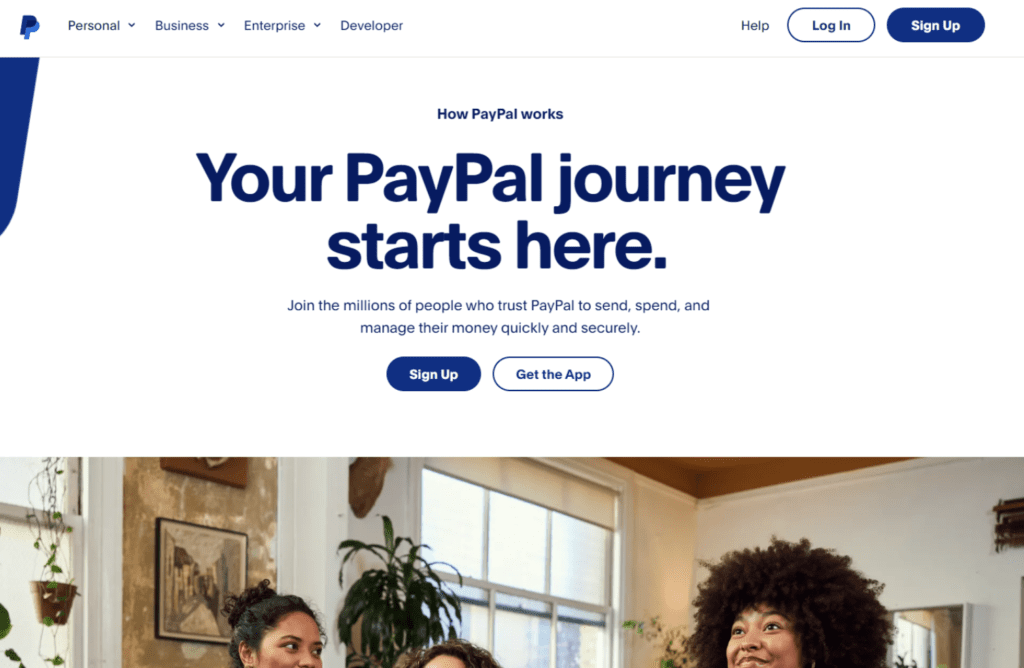 PayPal is one of the most popular payment gateways used worldwide. It's a common payment system among users due to its security and ease of use, which is why it's a highly recommended solution even for a newly created eCommerce.
PayPal is used by both small businesses and corporations. Thanks to its flexibility and reliability, it's often a preferred choice among users who shop online. Additionally, it can be easily integrated into any system, which is why retailers and online shop owners choose to have it as one of the available payment options.
Pros:
Straightforward integration
Safe, reliable, and encrypted system
Internationally available and used worldwide
Cons:
Can become expensive for stores that generate lots of sales
Customer support is not always available
Apple Pay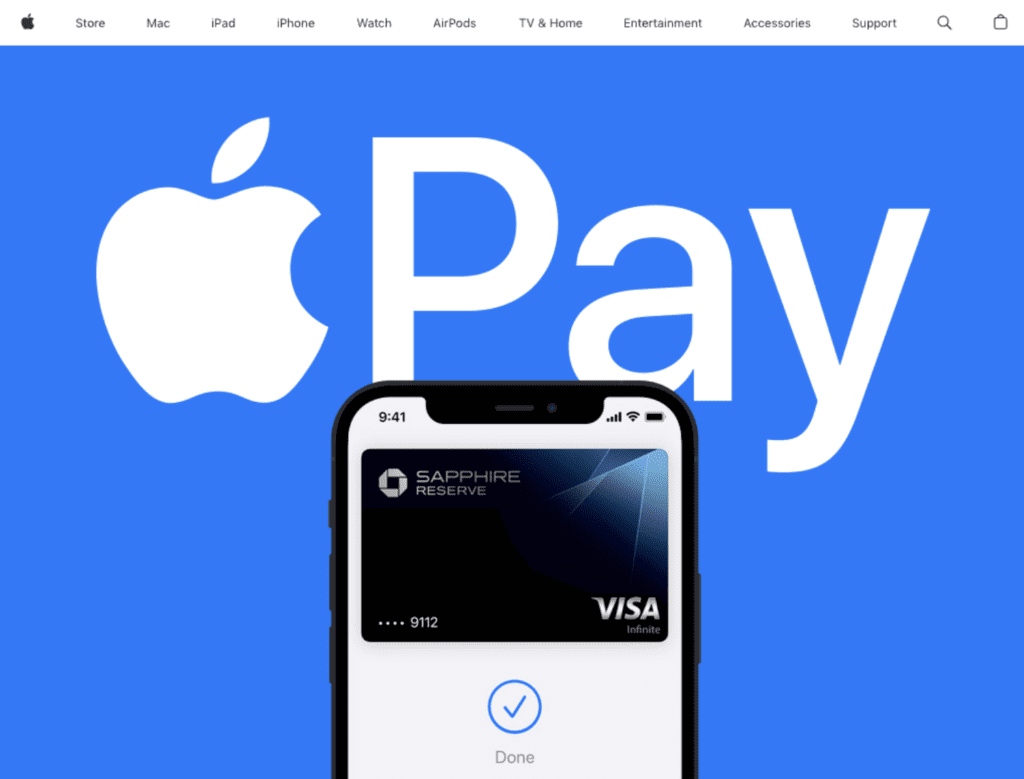 A fast-paced world like this one needs more touchless payment systems like Apple Pay. It is fully compatible with other Apple devices, which is why iOS fans often choose it over other payment methods when shopping online. This service is characterized by ease of use and streamlined transactions, which can be completed with one touch of an iPhone or iPad.
Another invaluable benefit of Apple Pay is its compatibility with credit and debit card giants like Visa, MasterCard, and AmericanExpress. It means that a broad range of customers can use it as a preferred payment method and shop for their favorite items hassle-free on any online store that processes payments through Apple Pay.
Pros:
Compatible with Visa, MasterCard, and AmericanExpress
A touchless payment system that contributes to a higher revenue
Cost-efficient and suitable for Apple users
Cons:
Limited to iPhone and iPad users
Stripe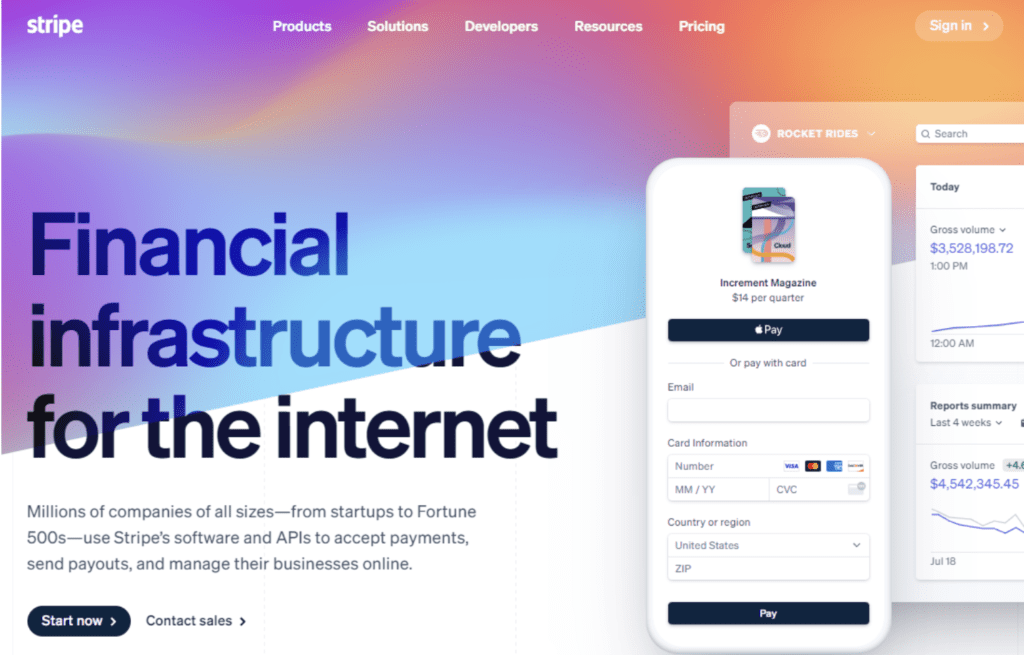 The increased popularity of Stripe is mostly due to its compatibility with cryptocurrencies. Namely, Stripe lets users accept payments in Bitcoin, which is convenient for all those that want to add an extra layer of security to their transactions.
Besides supporting the emerging need for cryptocurrency, Stipe is a user-friendly service that keeps growing day by day. It's easy to integrate into different online stores, and its frequent updates make sure it maintains its security while offering a highly-efficient transaction flow.
Stripe accepts payments in 24 currencies, which makes it a leading payment gateway among retailers and financial platforms. However, its efficiency comes with a hefty price tag, which is why it's not the top choice for eCommerce stores with unsteady revenue.
Pros:
Free trial available
Supports 24 different currencies, including cryptocurrencies (Bitcoin)
Completes payments without redirections
Cons:
Limited to specific countries
More expensive than other payment gateways
Skrill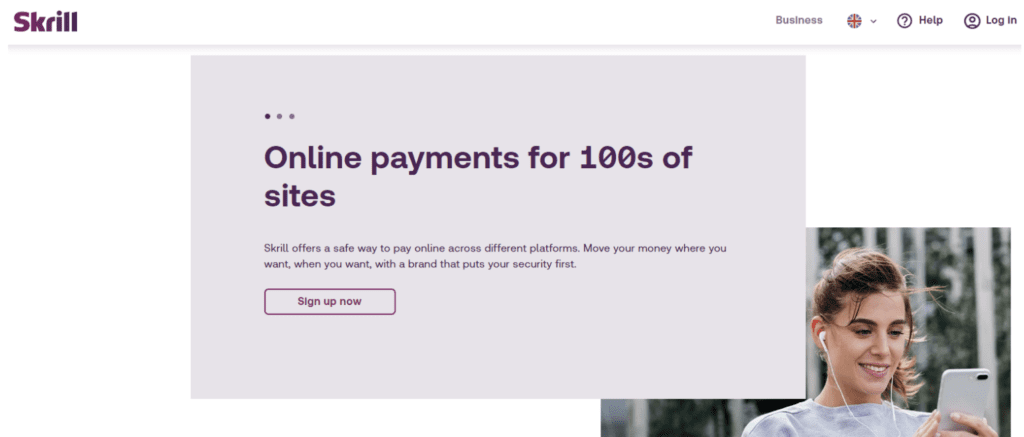 Skrill is a mobile-based payment gateway used mostly by dropshipping businesses and small businesses looking forward to increasing their revenue through increased sales.
Skrill is available in 40 countries, including those that are marked as "high-risk" areas. This is one of the reasons why some industries find Skrill more attractive compared to other service providers.
Pros:
A transaction fee is 1.2%, which is more affordable than other providers
Easy to integrate with WooCommerce websites
Available in 40 countries, including "high-risk" areas
Cons:
Due to its connections with high-risk areas and the gambling industry, some eCommerce owners might find it unreliable
Not very popular in the eCommerce industry
SecurePay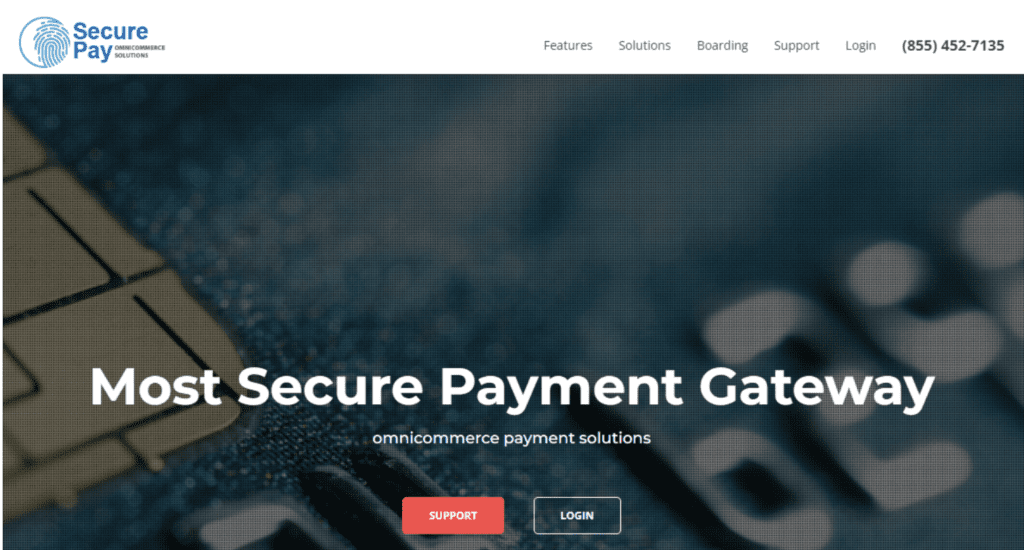 SecurePay is one of the most secure and reliable payment methods in the eCommerce industry. Despite being one of the oldest payment gateways available, it tops the list of the best providers that keep improving the services they offer. Thanks to its user-friendliness and robust system, SecurePay is the most popular among small and medium-sized businesses.
Users love SecurePay because of its straightforwardness and the ability to manage and accept payments effortlessly. Besides, the integration instructions are well-documented and eCommerce owners can count on a free trial before adding it to their website.
However, keep in mind that SecurePay is not the most affordable solution out there. Its transaction fees are higher than average, and the annual subscription for processing payments is an additional expense. Still, if you want to experience one of the most secure and highly efficient payment methods available, you won't go wrong with SecurePay.
Pros:
Real-time analytics to help eCommerce owners track traffic and revenue
Excellent for processing and managing larger transactions
Secure and encrypted
Easy to use and integrate
Cons:
Expensive compared to other payment methods
Not supported by Android devices
Amazon Pay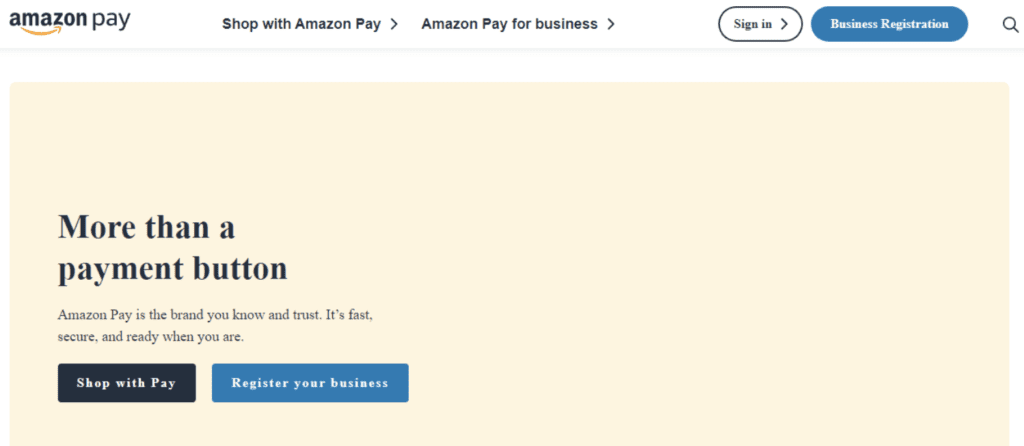 Users with Amazon accounts often choose Amazon Pay when shopping online. Although it might not be as popular as other payment gateways, Amazon Pay has its perks, and it's a good choice for integration if you are targeting customers from the USA.
It's pretty convenient for users who already have an account with Amazon as it streamlines the entire checkout process. On the other hand, customers without an Amazon account might find it annoying to sign up for the service to complete the purchase.
Pros:
Convenient for customers with an Amazon account
Fast and easy transactions
Secure
Cons:
Can be used only online
Requires an Amazon account to use it as a payment gateway
How to Choose the Best Payment Method for My eCommerce Website?
Choosing the right payment methods for your eCommerce website is not just a question of economics. It's one of the ways to attract your target audience and convert them into long-term customers.
That being said, the choice of the final payment method will depend on the following aspects of your customers:
Geographical location
Age
Technologies they use
Preferred payment methods
It's important to consider all these factors when choosing the payment models you will use on your website. Otherwise, you might experience customer dissatisfaction and the inability to make enough sales.
Summing Up
The eCommerce sphere keeps growing, which means that it might be hard to find your place in the sun if you are new to the industry. To succeed in the digital market, your eCommerce store must be unique and built according to the latest digital trends. You can always count on freelance photo editors to create high-quality and personalized visual material for your online store and ensure you're easily discovered both by Google and potential clients. But that's not where your digital journey ends.
As we spoke earlier, payment methods play a vital role in the eCommerce industry. For that reason, it's vital to incorporate the best and most reliable solutions for your website. That way, you will get closer to your target audience and provide a top-notch user experience that will boost your sales and digital presence.
So, remember to consider the following factors when making your final choice regarding the payment methods and gateways:
Security and reliability
Transaction flow
Efficiency
Ease of use
Fees and agreement terms
Ease of integration
However, the most important thing to keep in mind is whether the payment methods you offer to meet the needs of your audience and whether they will use them. If you choose to provide solutions no one will use, you are at risk of decreasing your sales and damaging your digital presence.
The quality of products, the website's design and functionality, and the selection of payment methods matter the most when it comes to eCommerce business. For that reason, it's quintessential to focus on the improvement of these aspects if you want to beat your competition and survive in the digital market. To streamline the overall eCommerce web development process, count on Flatlogic to help you build full-stack web apps and help you conquer the digital world without breaking a sweat.