Understanding the ins and outs of these applications can be your golden ticket to competitive advantage and success. Get ready to navigate this comprehensive guide, filled with seasoned advice and actionable insights, all designed to enhance your organization's capabilities.
What are these business applications? How can they help my business? How do I use these tools correctly? Your curiosity is justified. As LA, California's business titan Lee Iacocca once observed, the wise use of time is the foundation of business success- resolving these questions is an invaluable use of your time.
Understanding and managing complex business processes and mountains of data can be daunting for many organizations. Underscoring the enormous opportunity that lies ahead for enterprise applications, Deloitte research shows that half of all business processes can be automated.
Stepping into the labyrinth of entrepreneurship, I have realized that the fast-paced digital age requires businesses to constantly innovate, adapt, and strive for efficiency. My journey as a startup entrepreneur for 8 years has made me appreciate the importance of Enterprise Business Applications (EBAs). These comprehensive systems that integrate various business functions act as the backbone for businesses in the evolving digital landscape.
By reading this article, you'll not only know what an enterprise business application is and how to make it work for your business. You'll also have the strategic thinking you need to lead your organization to digital resilience. So, are you ready to improve your operational efficiency and productivity? Let's journey together into the remarkable universe of enterprise business applications!
What is an Enterprise Business Application?
As an entrepreneur, the decision to create an EBA for my startup was strategic. The process involved analyzing the various channels of my business, defining the goals, and then meticulously designing the application to support our unique processes. It was an interesting mix of making fundamental decisions about custom vs. off-the-shelf, on-prem vs. cloud storage, mobile access, and scalability. Ensuring compliance with regulatory and industry standards and data security, while maintaining a simple end-user interface, felt like a juggling act, but was an important learning experience.
So, let's first take a look at what an enterprise business application is.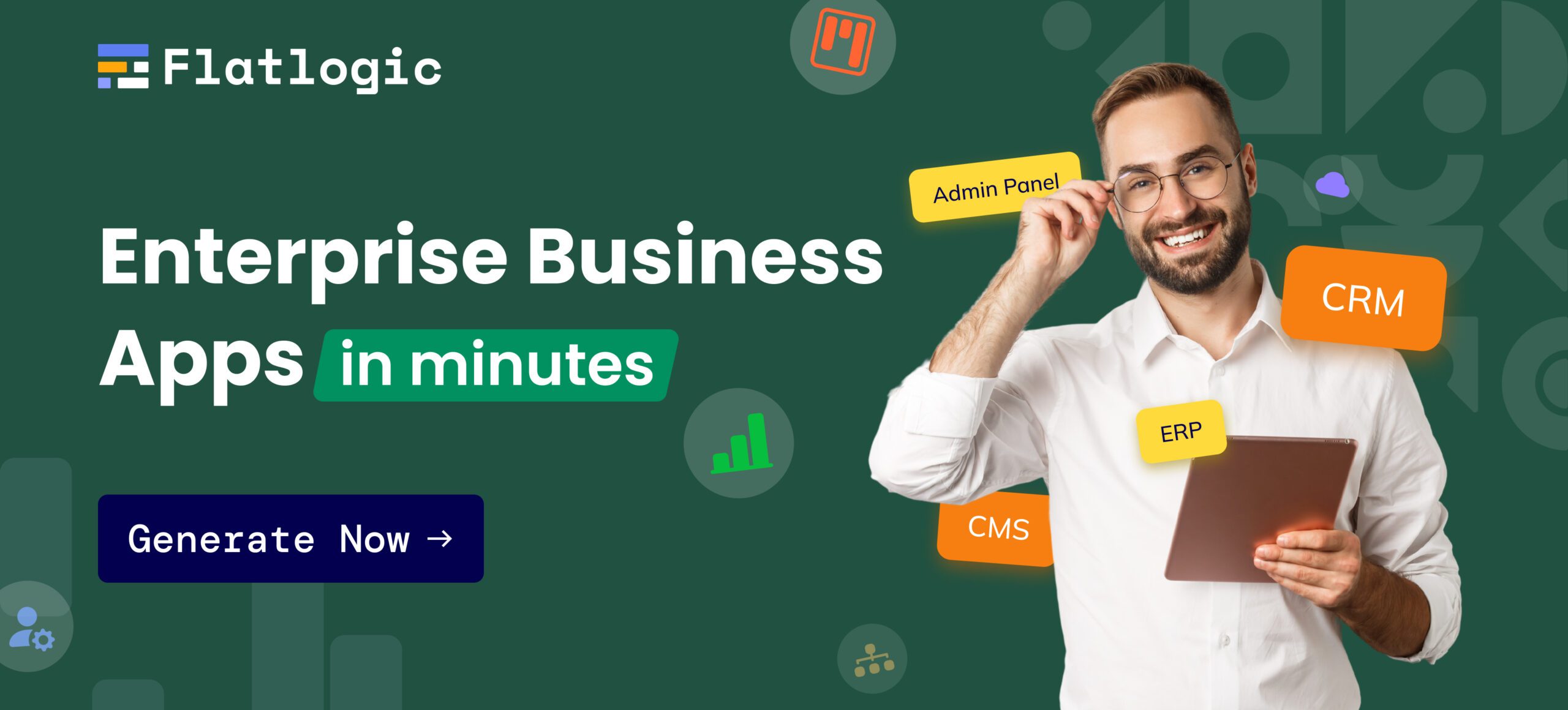 Enterprise business applications (EBA) are designed to promote collaboration and coordination across the enterprise by unifying the computer systems that manage different aspects of an organization's operations. This includes integrating critical business processes such as sales, accounting, finance, human resources, inventory, and manufacturing. The ultimate enterprise system would track every key activity in the enterprise in real-time, using a single software architecture. In addition, the scope of enterprise software is expanding to connect the enterprise with suppliers, business partners, and customers.
Cases Of Enterprise Business Applications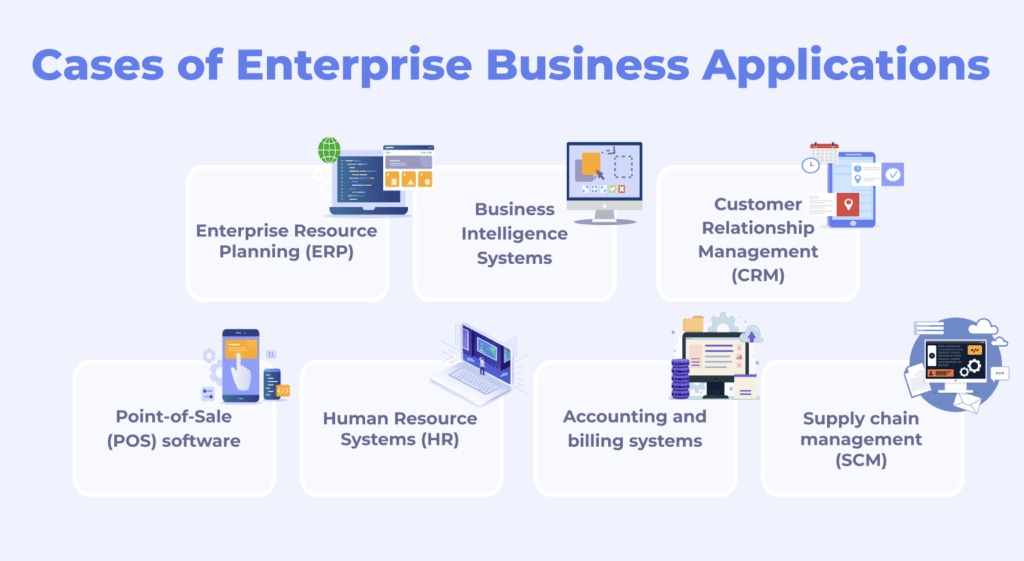 As a startup entrepreneur researching enterprise applications, I've noticed that organizations that have integrated these applications into their operations have experienced impressive productivity gains and process improvements. To help me, and perhaps you, better understand the concept of an enterprise application, let's take a look at some common examples:
Enterprise Resource Planning (ERP)
Business Intelligence Systems
Customer Relationship Management (CRM)
Point-of-Sale (POS) software
Human Resource Systems (HR)
Accounting and billing systems
Supply chain management (SCM)
Take accounting and billing systems like QuickBooks for instance, you're better equipped to handle cash flow and keep track of corporate financial transactions and projections. Imagine not having it, tracking revenue and expenses would be quite laborious.
Exploring Customer Relationship Management, let's take HubSpot. It is a CRM application that helps to collect and manage information about potential customers. It helps improve customer relationships, fuels sales growth and provides customer access to company data.
Point-of-Sale (POS) software. Shopify POS is an example. It logs customer transactions and informs businesses about sales and product inventory. Retailers and fashion outlets need such systems to manage products and purchases.
Supply Chain Management (SCM) software like SAP SCM assists companies in handling both internal operations and collaborations with third-party partners across the supply chain. This eliminates any bridges among manufacturers, distributors, and points of sale.
When trying to find a suitable solution, pay good attention to your specific business goals. Consider what aligns best with your operations.
Pros & Cons Of Enterprise Business Applications
Pros of Enterprise Business Application
As my startup grew, I found that the benefits of EBA were many and varied. It centralized all of my business processes on one platform. This change increased visibility, accelerated decision-making, and improved efficiency. Automating routine tasks allowed my team and I to focus more on strategic decision-making and innovation, while the scalability meant we didn't have to worry about outgrowing our system. Most importantly, we were able to serve our customers more effortlessly, resulting in greater satisfaction.
Cons of Enterprise Business Applications
But the journey wasn't without its challenges. The cost of implementing EBA was significant for a startup company like mine. It included licensing, implementation, training, and maintenance costs that at times felt overwhelming. There were times when the complexity of the functionality and the professional training became an ordeal. We also experienced a few system outages that resulted in minor productivity losses.
Building Your Enterprise Business Application
Let's talk about how these applications have changed my own business. I needed an efficient, auditable way to track inventory, sales, and deliveries for my retail business. At first, I relied heavily on manual processes that were cumbersome, error-prone, and inefficient. That is when I discovered the magic of enterprise applications.

Before embarking on the journey to create an enterprise business application that meets my organization's needs, it's important to develop a strategy. This will serve as my guide to success. I need to take a hard look at all the software my company currently uses to see what works and where we can get more value out of it. I'll also need to consider how this new application will work with the software we want to keep. It's also important to establish specific, measurable KPIs so that we can realistically measure our success. The expertise of my team is also carefully evaluated – while we may save costs by developing in-house, without the right skills we may not be able to meet our needs efficiently.
With a well-thought-out plan in place, I'd like to walk you through the personal path I would take to build an enterprise business application. This includes basic Software Development Life Cycle (SDLC) stages, such as:
The first step is to think about your business goals. Determine what you are trying to accomplish with this application and identify the features needed to support those goals.
The second step is setting your financial boundaries before you dive in. Knowing how much you can invest allows my development team to focus on what matters and prioritize accordingly.
Next, write down what you need – create a roadmap. This is where you write a detailed outline of your goals, expectations, and the core functions your new business application must fulfill. Also is needed to list the software it must synchronize with and any development specifics, such as platforms or technologies you'd like to use. Creating a wireframe can be daunting, but fortunately, your technical team can guide you through it.
The next step is to design the UI/UX. A web designer is a specialist who can bring your dreams to life, based on your technical requirements from the previous stage, the designer will create an appealing and user-friendly design.
Build and test your application. It is exciting to see your business application being built. During this phase, you need to be sure to get feedback from my team and incorporate their valuable insights.
The last, but more important is to deploy and maintain. Now it's time for the big debut! Install the application on your team's devices and, if the application is for consumers, make sure the application is available in app stores. Keep in mind, however, that reaching this milestone isn't the end of your journey. You'll need to stay open to feedback, constantly tweak and fine-tune the application as needed, and address any glitches promptly.
Of course, integrating the company's business applications wasn't a cakewalk. As with any technology implementation, there were bumps in the road, such as data migration, employee training, and resistance to change. But with a dedicated IT team, we overcame the obstacles. Looking back, I can confidently say that the initial hurdles were minor compared to the resulting business growth and efficiency.
Key Features of Enterprise Business Applications
The features of an EBA that worked wonders for my startup were seamless process integration, customization, real-time data, and analytics. These features gave me a clear, data-rich view of my company's performance, which helped me make quick, informed decisions. The key features of EBAs are:
To grow and shrink as needed, enterprise business applications must have robust scalability. It should integrate with other software systems such as CRM, ERP, and HR. Customization, which allows organizations to tailor the software to their specific needs, is another cornerstone feature.
A user-friendly interface is essential for increasing user adoption and reducing training time. Mobile compatibility to support the prevalent remote working and BYOD culture is also important. High performance is also required, as enterprise applications are designed to process large amounts of data quickly and efficiently.
Because of the sensitive nature of data in enterprise applications, security is paramount. This means encrypting data, authenticating users, controlling access, and keeping security up to date.
Enterprise applications give organizations the choice between remote accessibility and tighter data control and are generally adaptable to both cloud and on-premises deployments. To reduce the potential for human error and free up resources, they typically offer automated workflows. And importantly, these applications provide real-time reporting and analysis to help you make decisions and forecasts.
For organizations that operate in multiple geographies, enterprise business applications should provide multilingual support. To help organizations meet regulatory requirements, these applications should also include compliance management capabilities. Data management capabilities are essential for securely storing, sharing, and protecting critical business data.
One function that is often underestimated is technical support. It's necessary to troubleshoot and resolve issues quickly. To give businesses the freedom to choose a plan that fits their budget and needs, many business applications offer flexible pricing. Collaboration tools that simplify tasks such as file sharing and project management are also built into business applications.
Why Businesses Need Enterprise Business Applications
Whether you are a business tycoon or a startup owner like me, the need for efficient EBA implementation is imperative. The integration of various business processes provides a holistic understanding of your business that is otherwise difficult to achieve. Such a view leads to improved efficiency, informed decisions, and increased profitability. In hindsight, I only wish we had implemented our EBA sooner, as I can see how it is now driving our competitiveness and profitability in today's dynamic marketplace.
How to Build Enterprise Business Application: Flatlogic's Solution
Honestly, I learned a lot while working with Team Flatlogic. I had more than just a few ready-to-use templates. I got a partner committed to reducing my EBA setup costs.
The beauty of Flatlogic is in the freedom. Yes, we provided underlying template structures, but our expertise lies in helping you beautifully flesh it out. We got the skeletons prepared, you add the flesh.
With thorough guide documentation and fantastic technical support, you and your team wouldn't need to stress. Our product enjoys love from a host of industries, thanks to languages like React, Angular, Vue, and Bootstrap. With Flatlogic on your side, you've got a guide through the turbulent world of modern EBA programming.
Summing Up
Rolling out our EBA was an exhilarating experience. We were faced with challenges such as integrating prior-used software, migrating data, employee training, and managing resistance to change but this is to be expected with technology implementation. However, I am proud to say that these minor roadblocks pale in significance to the growth and efficiency the EBA provided.
So, there you have it. The value of an EBA to my business, and hopefully to yours. I firmly believe that the most important outcome of all this was the massively improved functionality of my business and data-informed decision-making. Prepared to build your
entrepreneurial journey with EBAs?