OPTELOS - Drone Data
AI Analytics Solution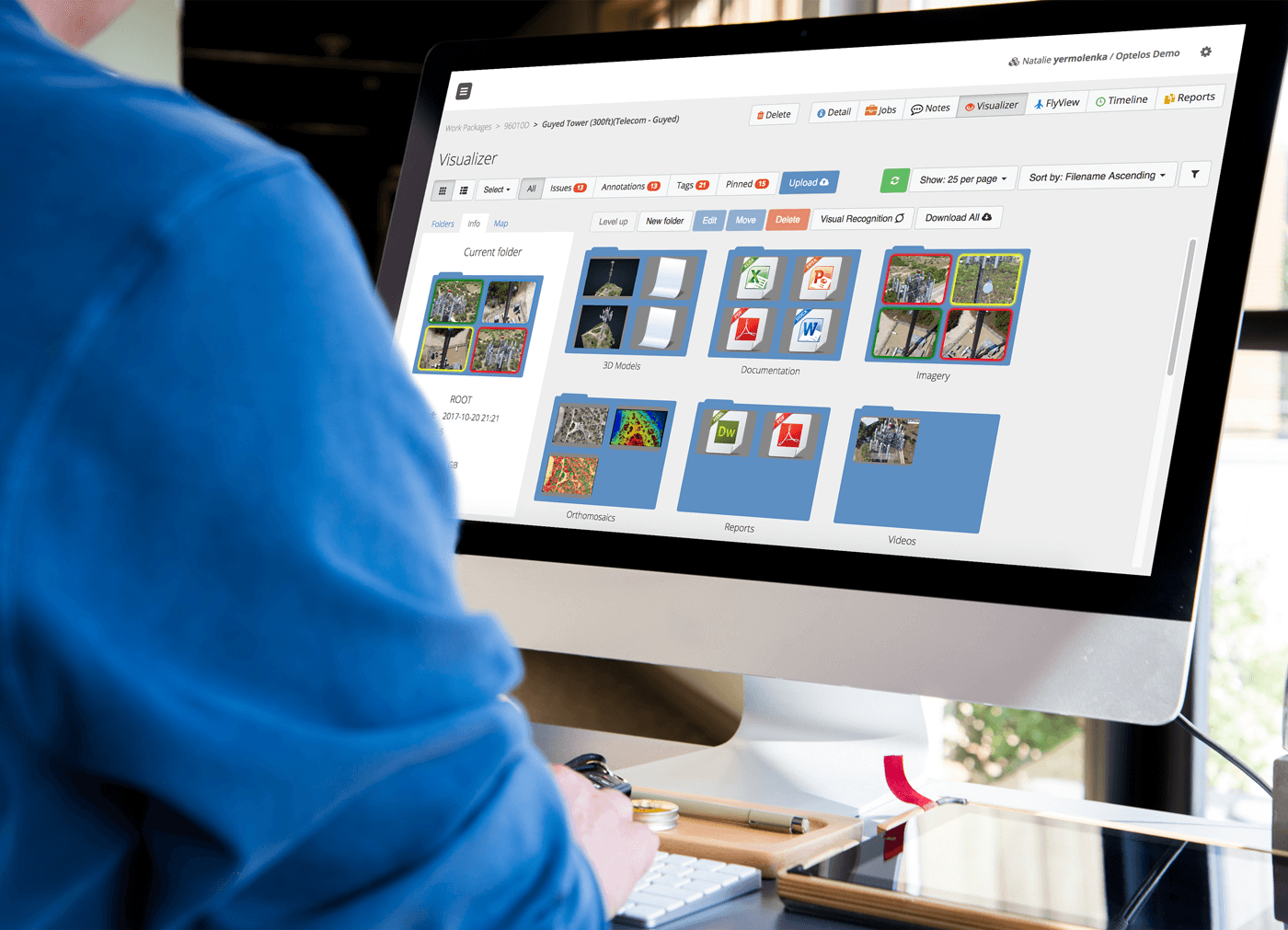 About
Optelos is a leading enterprise data management and AI analytics platform that turns data into actionable insights. It is a secure, scalable and intelligent drone data management solution built on top of Flaltogic's Sing App Angular Template. The platform is a smart way to manage, analyze and deliver various drone imagery.

www.optelos.com
Business challenges
Optelos turned its attention to drones when they saw a potential for this technology to increase speed, safety, and accuracy of survey work. It can turn data into actionable insights and create tremendous efficiencies for numerous industries such as energy, telecommunications, mining, construction, logistics.
Optelos decided to partner with Flatlogic in order to create drone data management software that collects, recognizes and classifies various drone imagery (solar panel defects, power line maintenance, etc) and enables operators to upload drone images to the cloud and then create data models, which can be viewed and shared. The tool is designed to enable drone operators to analyze large number of photos automatically.
Drones capture hundreds and thousands of images and utilize processing software to analyze it by using computer vision, therefore, reducing costs. The drone economy is thriving. And Optelos is working with Flatlogic to create AI analytics software to analyze, classify, tag, and deliver results to clients in a branded interface.
Solution
The first goal was to create an object recognition AI software that can detect solar panel defects based on Sing App Angular Template. We choose to use neural networks to solve this business challenge. Initial dataset consisted of about 100 real images plus images generated by augmentations generator. Finally, we trained a neural network to recognize solar panel defects and integrated it into the platform.
To conclude, our technology has reduced operational costs, increased efficiency and, of course, saved hundreds of thousands dollars to the client. Today, artificial intelligence is a chance to embrace new opportunities, to avoid mistakes and 'human error'.
And of course one of the main driving force for using AI in any business is to have another competitive advantage. After all, business is always about maximizing value and minimizing costs by any means including AI.
Requirements
Machine Learning & Data Science

Angular Framework
UX & UI Development
Technologies